Kerala state government's cabinet on February 12 approved and provided revised administrative sanction for Kozhikode and Thiruvananthapuram light metro (light rail transit / metrolite) projects with a combined estimated cost of Rs. 7446 crore.
The 21.82 km Thiruvananthapuram Light Metro project (Technocity – Karamana) is estimated to cost Rs 4,673 crore and the 13.3 km Kozhikode Light Metro project (Meenchanda to Kozhikode Medical College) is estimated at Rs 2,773 crore. The cabinet also decided to submit both projects' Detailed Project Report (DPR) and proposal to the Central Government for approval.
Metrolite trains in both cities will mostly run at-grade (road level) on dedicated / fenced-in corridors and run elevated where required, especially at busy intersections.
Both projects were originally envisioned as heavy rail systems and had received the state government's approval in 2015. Following the release of the Government of India's Metro Rail policy of 2017, both projects were redesigned as light rail systems. Their revised DPR, prepared by the Delhi Metro Rail Corporation (DMRC), was approved by Kerala Rapid Transit Corporation Ltd. (KRTL)'s board on October 19, 2020.
Here's the Government of Kerala's official sanction letter, with a brief history of the project, financials, transit oriented development (TOD) recommendations, proposed fare structure, and more tidbits. Interesting to note there will be a PPP component to finance their automatic fare collection system, elevators (lifts) and escalators with an estimate private estimate of Rs. 213 crore.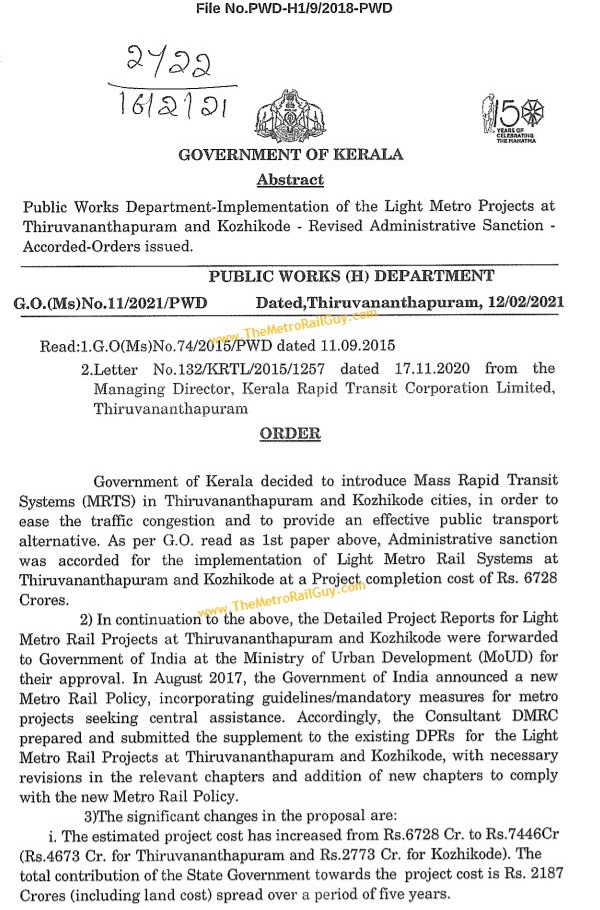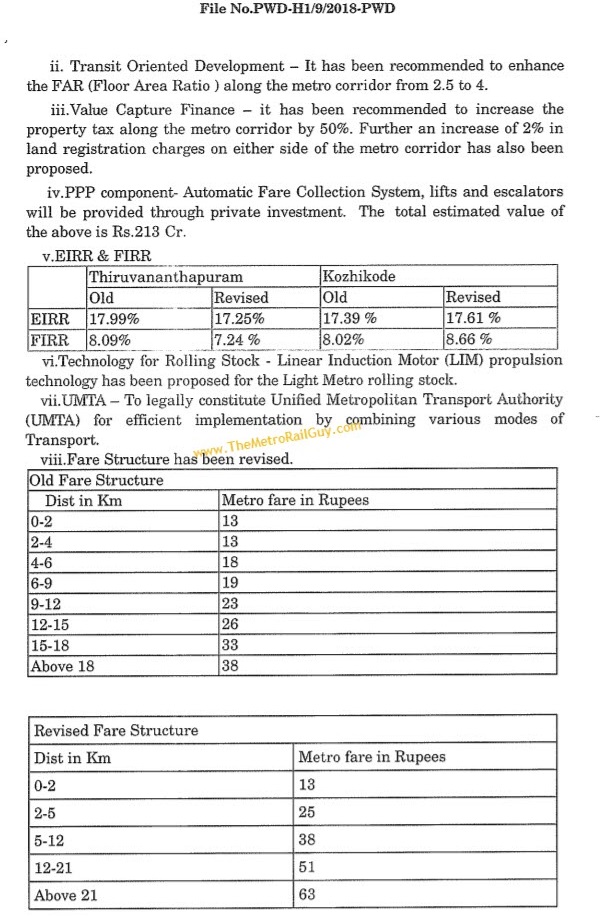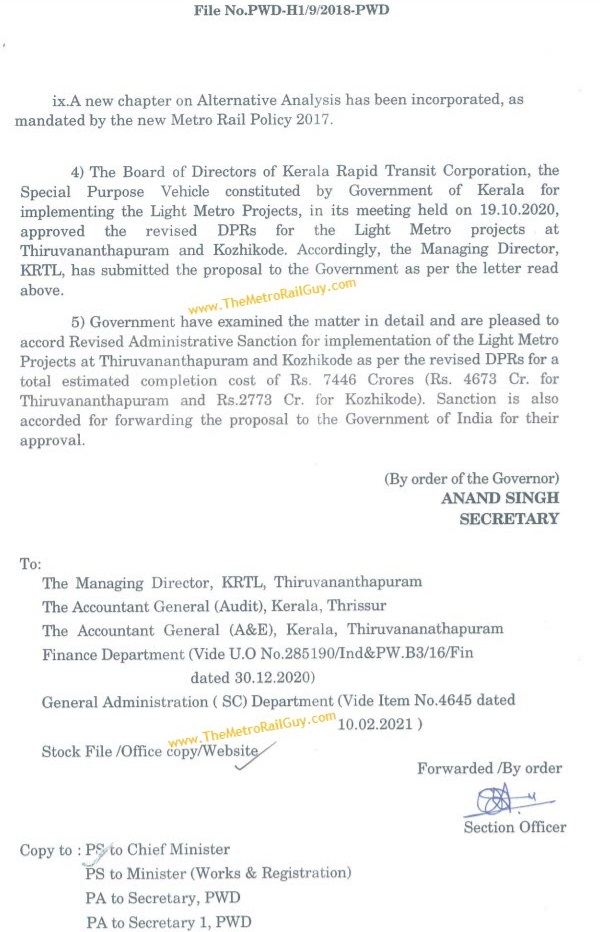 Detailed information on either project hasn't been released but will most likely resemble what was earlier envisioned:
Trivandrum Light Metro
Line 1: Technocity – Karamana
Length: 21.821 km
Estimated Cost: Rs. 4219 crore
Number of Stations: 19
Station Names: Technocity, Pallipuram, Kaniyapuram, Kazhakoottam, Kazhakoottam Junction, Kariavattom, Gurumandiram, Pangapara, Sreekaryam, Ulloor, Kesavadasapuram, Pattom, Plamoodu, Palayam, Secretariat, Thampanoor (Trivandrum Central Railway Station), Killipalam, Karamana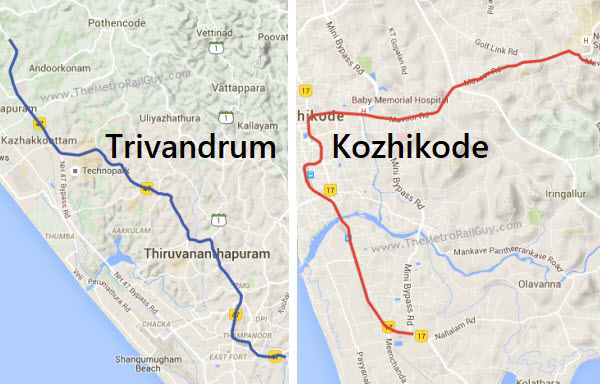 Kozhikode Light Metro
Line 1 – Meenchanda to Kozhikode Medical College
Length: 13.3 km
Depot: Medical College
Number of Stations: 14
Station Names: Meenchanda, Vattakkinar, Panniyankara, Kallayi, Pushpa, Kozhikode Railway Station, Palayam, Mananchira, KSRTC, New Bus Stand, Kottuli, Thondayad, Chevayur and Medical College
Kerala is about to head to elections in May, so this approval was along expected lines. I don't believe the central government will rush in to approve the project to one-up the state government, but you never know.
For more updates, check out my Home Page!
– TMRG