Larsen & Toubro (L&T) last Friday emerged as the lowest bidder for constructing a 4.367 km new bridge over Ganga River between Bhagalpur and Raghopur in Bihar after the Union Ministry of Road Transport and Highways (MoRTH) opened financial bids.
This new 4-lane bridge of NH-131B with 68 piers will be built parallel to the existing 20 year old Vikramshila Setu on the Engineering, Procurement and Construction (EPC) model. The package's scope also includes approach roads on either side – 875m on the Naugachia-end and 987m on the Bhagalpur-end.
Its detailed project report was submitted by Bihar Road Construction Department (RCD) in 2018 and was approved by MoRTH's departmental expenditure finance committee in July 2020.
Bids for its construction were invited in July 2020 with a 4 year deadline. Technical bids were opened on February 9 to reveal 7 bidders.
MoRTH's Estimate: Rs 958.35 crore
Financial Bid Values (Opened Feb 19):
| | |
| --- | --- |
| Firm | Bid |
| Larsen & Toubro | Rs. 838 crore |
| Gammon – TLL JV | Rs. 897 crore |
| Afcons Infrastructure | Rs. 949.14 crore |
| Ashoka Buildcon – Ranjit Buildcon – Arvind Techno (ABL Bridge JV) | Rs. 966 crore |
| SP Singla Constructions | Rs. 1062.47 crore |
| NCC Ltd. | Rs. 1222.02 crore |
| Hindustan Construction Co. – Rajbir JV | Rs. 1297 crore |
Contract Number: RW/NH-12014/06/2020/BR/Z-I
Brief Scope: Construction of New Four lane Bridge (Parallel to the Existing Vikramshila Setu) from Km 8+080 to Km 14+309 including approach road 875m on Naugachia side & 987m on Bhagalpur side across river Ganga on newly declared NH-131B at Bhagalpur in the State of Bihar through an Engineering, Procurement and Construction (EPC) Contract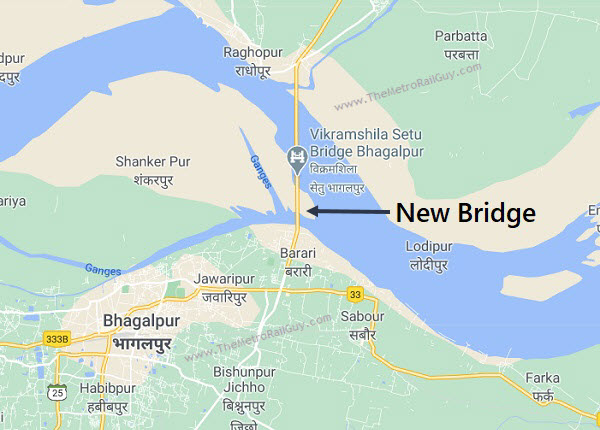 L&T's bid of Rs. 838 crore was well below MoRTH's estimate of Rs 958.35 crore, so they should be awarded its contract in the coming weeks.
The existing low-capacity 2 lane Vikramshila Bridge lies in a dilapidated condition with gaps between some of its joints, so this new bridge will be extremely helpful to those traveling between North-East India / Nepal and Kolkata / Jharkhand.
In case you missed it, I started tracking miscellaneous big-ticket contracts earlier this year and this fits right in. Other such posts can be viewed here.
For more updates, check out the Bridges section or my Home Page! Sign up for free instant email notifications on new posts over here. Like this post? Get early-access to updates and support the site over here.
– TMRG