Kochi Metro Rail Ltd. (KMRL) today invited tenders (bids) to appoint a Project Management Consultant to manage Kochi Metro Phase 2's new 11.2 km Pink Line which will connect JLN Stadium – Kakkanad – Infopark / Smart City.
This consultancy-related tender is the first significant pre-construction tender for this brand new phase which will feature one new elevated line with 11 stations.
Kerala government's state cabinet had approved Phase 2's construction in July 2018 with an estimated cost of Rs. 2,310 crore, and the central government's approval is currently pending.
Tender No: KMRL/PRJ/ DnP/128/ 2020/KBPMC-01
Contract No: KBPMC-01
Duration / Deadline: 1643 days (4.5 years)
Pre-Bid Meeting: 26 March 2021 at 03:00 PM
Bid Submission End Date: 19 April 2021 at 03:00 PM
Technical Bid Opening Date: 21 April 2021 at 03:30 PM
Brief Scope: Project Management Consultant for Phase-II Corridor from JLN Stadium to Infopark via Kakkanad of Kochi Metro Rail Project
Pink Line's 11 stations will come up at Jawaharlal Nehru (JLN) Stadium (new station box next to Blue Line), Palarivattom Junction, Palarivattom Bypass, Chembumukku, Vazhakkala, Padamughal (formerly Kunnumpuram), Kakkanad Junction, Cochin SEZ (Special Economic Zone), Chittethukara, KINFRA (formerly Rajagiri), and InfoPark / Smart City (connected to Kochi Water Metro). A station planned at InfoPark 1 is no longer in the works.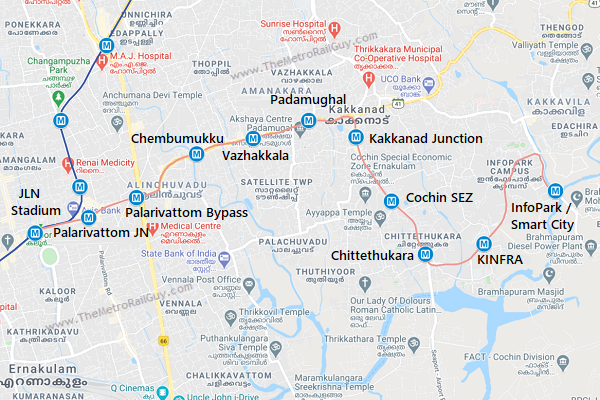 The PMC contract's tender document will be available for download on March 5, so let's see what additional information pours out. The appointment will likely be on the QCBS (Quality and Cost Based Selection) basis with a two stage (technical & financial score-based) process getting adopted for evaluating the proposals.
Prior to this, KMRL had appointed Delhi Metro Rail Corporation (DMRC) for Phase 1 (Aluva to Petta) and Aarvee Associates for Phase 1B (SN Junction to Thripunithura)'s PMC roles.
For more updates, check out my Home Page!
– TMRG