Afcons Infrastructure has started ground work to construct Kolkata Metro Line-6's Package ANVS – a 3.519 km mostly elevated extension from Sub CBD-2 Station to Kolkata Airport (Biman Bandar).
This section of the 32 km Line-6 (Kavi Subhash New Garia – Netaji Subhash Chandra Bose International Airport) was originally envisioned to be underground, but large-scale land acquisition for its ramp and station at Teghoria (named Rabindra Tirtha) forced Rail Vikas Nigam Ltd. (RVNL) to convert a large potion of it – barring an approximate 950m airport stretch – into an elevated line.
Follower Rupraj Sengupta spotted new barricades including a geotechnical soil investigation tripod at City Centre 2: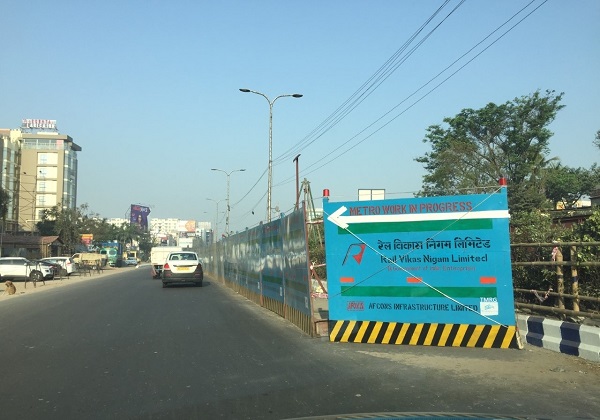 Afcons emerged as the lowest bidder for this section among 4 in December 2020. Their package includes the construction of 2 new stations at Chinar Park (formerly Rabindra Tirtha) and VIP Road (Haldiram), and the following viaduct & underground sections:
Viaduct (2 sections)
Section 1: (CH: 25900 approx.) to CP:801 (CH:27200 approx.)
> Length: 1300M (Approx.)
Section 2: CP: 801 (CH: 27200 approx.) to start of ramp (CH:28450 approx)
> Length: 1250M (approx.)
Ramp/Underground
Start of Ramp (CH:28450) to end of Design Limit (CH: 29400)
> Length: 950M (approx.)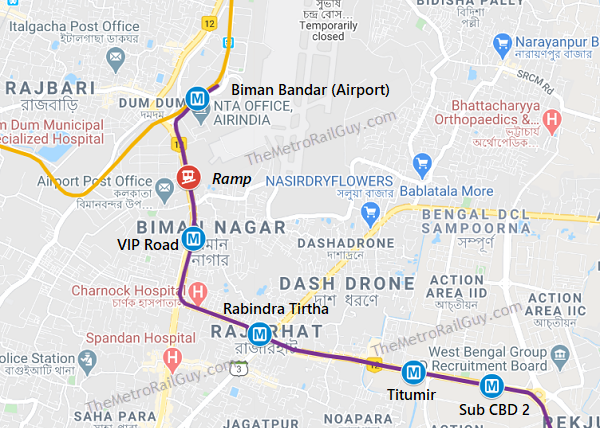 This is Afcons' third package on Line-6. Their other packages include ANV1 with a 5.75 km viaduct between New Garia and VIP Bazaar and Package ANV3 with a 5.16 km viaduct between NICCO Park and CBD-1.
For more updates, check out my Home Page!
– TMRG