Afcons Infrastructure today emerged as the lowest bidder among 4 to construct Kolkata Metro Line-6's Package ANVS – a 3.519 km mostly elevated extension from Sub CBD-2 Station to Kolkata Airport (Biman Bandar).
This section of the 32 km Line-6 (Kavi Subhash New Garia – Netaji Subhash Chandra Bose International Airport) was originally envisioned to be underground, but large-scale land acquisition for its ramp and station at Teghoria (named Rabindra Tirtha) forced Rail Vikas Nigam Ltd. (RVNL) to convert a large potion of it – barring an approximate 950m airport stretch – into an elevated line.
RVNL invited bids for this package in June with an estimated value of Rs. 526.62 crore and expects the assigned contractor to complete all work within 36 months. Technical bids were opened in August to reveal 4 bidders.
Financial Bid Values:
| | |
| --- | --- |
| Firm | Bid |
| Afcons Infra | Rs. 532.65 crore |
| ITD Cementation | Rs. 552.85 crore |
| STS – KEC JV | Rs. 629.33 crore |
| Gulermak | Rs. 688.09 crore |
Contract / IFB No: RVNL/KOL/New Garia-Airport/Metro/ANVS
Scope: Construction of viaduct, ramp & underground RCC box (cut & cover, box pushing) including related works for 3.520 km length from CH. 25891.527 to CH28410.989 between existing Pier CP-760 (near City Centre II) to merging point with metro railway at Biman Bandar Station yard including two stations (Rabindra Tirtha & VIP Road) with all allied works (architectural, electrical, mechanical, heating, ventilation, air condition, fire detection, fire suppression, system & public health engineering works) in New Garia – Biman Bandar metro corridor of Kolkata Metro Railway Line, West Bengal
This package includes the construction of 2 stations at Rabindra Tirtha and VIP Road –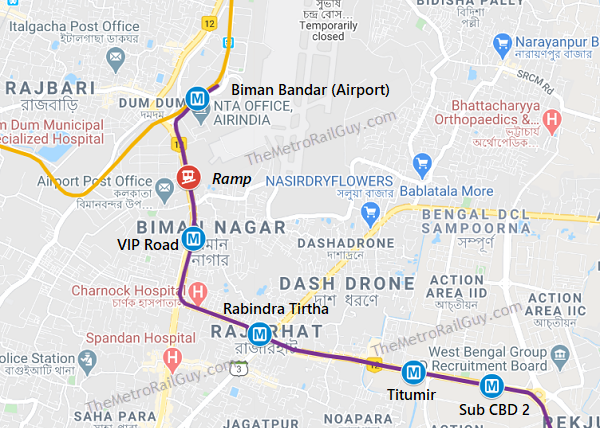 Afcons' lowest bid of Rs. 532.65 crore was just Rs 6.03 crore higher than RVNL's estimate of 526.62 crore, and shouldn't be a deal breaker at all. If no extraneous issues arise during financial bid evaluation, then Afcons should be awarded with Line-6's final major civil contract in the coming weeks with a 36 month deadline.
When awarded, if I'm not mistaken, this will be Afcons' first major civil contract in Kolkata since 2010 when it won the 16.34 km east-west Line-2's Package UG-01 (Howrah Maidan – Esplanade) with a contract value of Rs. 938 crore.
Update: Turns out Afcons had 2 civil contracts on Line-6 as well. This includes Package ANV1 with a 5.75 km viaduct between New Garia and VIP Bazaar and Package ANV3 with a 5.16 km viaduct between NICCO Park and CBD-1.
Coming back to Line-6's airport section – back in May, RVNL had invited bids to appoint a Detailed Design Consultant (DDC), and the tender notice for that gives an idea about this civil package's sub-sections. If anyone knows the winner for this contract, please drop a comment below or shoot me a message via the contact page.
Viaduct (2 sections)
Section 1: (CH: 25900 approx.) to CP:801 (CH:27200 approx.)
> Length: 1300M (Approx.)
Section 2: CP: 801 (CH: 27200 approx.) to start of ramp (CH:28450 approx)
> Length: 1250M (approx.)
Ramp/Underground
Start of Ramp (CH:28450) to end of Design Limit (CH: 29400)
> Length: 950M (approx.)
For more updates, check out the Kolkata section of The Metro Rail Guy!
– TMRG