Rail Vikas Nigam Ltd. today invited bids for the civil construction of Kolkata Metro Line-6's Package ANVS – a 3.519 km mostly elevated extension from Sub CBD-2 Station to Kolkata Airport (Biman Bandar).
This section of the 32 km Line-6 (Kavi Subhash New Garia – Netaji Subhash Chandra Bose International Airport) was originally envisioned to be underground, but large-scale land acquisition for its ramp and station at Teghoria (named Rabindra Tirtha) forced RVNL to convert a large potion of it – barring an approximate 950m airport stretch – into an elevated line.
Contract / IFB No: RVNL/KOL/New Garia-Airport/Metro/ANVS
Scope: Construction of viaduct, ramp & underground RCC box (cut & cover, box pushing) including related works for 3.520 km length from CH. 25891.527 to CH28410.989 between existing Pier CP-760 (near City Centre II) to merging point with metro railway at Biman Bandar Station yard including two stations (Rabindra Tirtha & VIP Road) with all allied works (architectural, electrical, mechanical, heating, ventilation, air condition, fire detection, fire suppression, system & public health engineering works) in New Garia – Biman Bandar metro corridor of Kolkata Metro Railway Line, West Bengal
Estimate: Rs. 526.62 crore
Completion Period: 36 months
Opening Date for Sale: 6/15/2020 12:00:00 AM
Closing Date & Time for Sale: 7/31/2020 10:55:00 AM
Opening Date for Download: 6/15/2020 12:00:00 AM
Closing Date & Time for Download: 7/31/2020 10:55:00 AM
This package includes the construction of 2 stations at Rabindra Tirtha and VIP Road. Last week, ITD Cementation emerged as the lowest bidder for completing Titumir Station's balance works.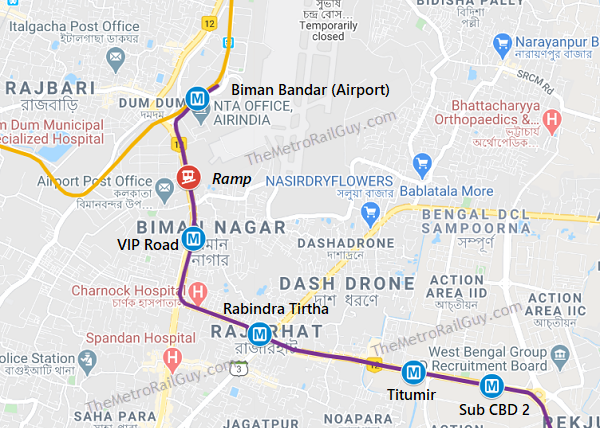 In May, RVNL invited bids to appoint a Detailed Design Consultant (DDC) and the tender notice for that gives an idea about the line's sub-sections:
Viaduct (2 sections)
1. (CH: 25900 approx.) to CP:801 (CH:27200 approx.)
Length: 1300M (Approx.)
2. CP: 801 (CH: 27200 approx.) to start of ramp (CH:28450 approx)
Length: 1250M (approx.)
Ramp/Underground
Start of Ramp (CH:28450) to end of Design Limit (CH: 29400)
Length: 950M (approx.)
Excavation is currently underway for Kolkata Metro Line-4 (Noapara – Airport)'s underground section at the airport where it'll meet with Line-6. Here's a recent video shared by Kolkata Metro on Facebook –
For more updates, check out the Kolkata section of The Metro Rail Guy!
– TMRG