March 3 (8 PM IST) Update: My original post announced Nippon – RITES – TPF as the winner for Surat's GEC contract. Representatives from Nippon Koei and TPF separately reached out to me indicating bidding is still ongoing. RITES had announced on the BSE they secured a GEC contract from GMRC most likely in error. Apologies for that. I'm going to confirm with RITES.
March 4 Update: My original post was inaccurate. Apologies once again for that. The post has now been modified with information on the qualified bidders below.
Modified Post:
Four global consortia have qualified for Surat Metro's General Engineering Consultant (GEC) contract for the system's 40.35 km Phase 1 project.
The GEC's role would include design / design review, system integration, assistance in procurement, construction supervision (including monitoring of statutory obligations), project management services, contract administration and interface management including assistance in testing and commissioning of the Surat Metro rail project.
Gujarat Metro Rail Corporation (GMRC) invited EOI applications for this consultancy contract in April 2020 right after AFD indicated it will finance Surat Metro through a 250 million euro (approx. Rs. 2071 crore) loan. EOI applications were opened in September to reveal 6 firms had shown interest.
Qualified Bidders:
DB Engineering & Consulting GmbH + AYESA + Korea Rail + DOHWA
MM S.p.A + Mott Macdonald + SMEC  
Rodic Consultants Pvt. Ltd. + Artelia + Italffer + TYPSA
Geodata Engineering S.p.A.  + LBG + Hill International
Disqualified Bidders:
Nippon Koei India + RITES + TPF
SYSTRA + AECOM + EGIS
EOI Notice No: GMRC/EOI/GEC/SURAT/2020
Brief Scope: The Gujarat Metro rail Corporation (GMRC) Limited has applied for a financing from Agence Française de Développement ("AFD") and Kreditanstalt fur Wiederaufbau (KFW), and intends to use part of the funds thereof for payments under the following project of Appointment of General Engineering Consultant for Surat Metro Rail Project – PH-I. Detailed scope of services shall be issued during RFP stage.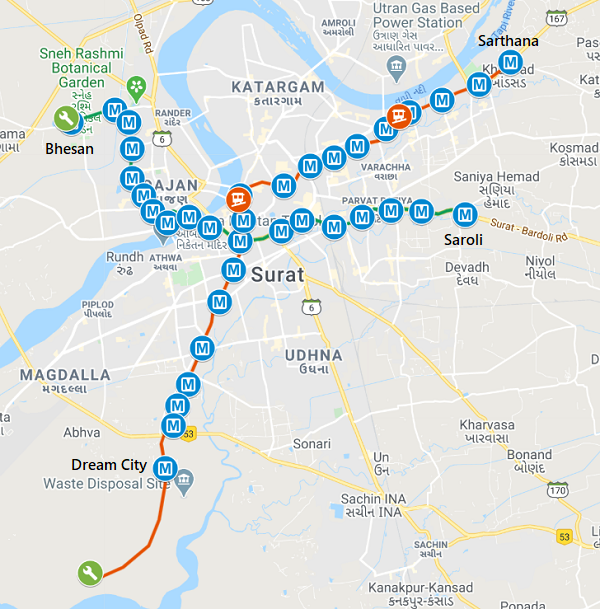 GMRC's bid submission deadline is March 23 and a pre-bid meeting with the shortlisted bidders was held on March 1.
In other news, Gulermak – Sam India Builtwell JV on Monday also received a LOA for constructing the 3.46 km underground Package CS2 (Kapodra Ramp to Surat Railway station). They had placed a bid of Rs. 1073.31 crore against GMRC's estimate of Rs. 929.46 crore. I hear the final contract value was negotiated down to somewhere between Rs. 1036 – 1040 crore.
So far Sadbhav Engineering and J Kumar Infraprojects have started ground work on the system's line-1 (Sarthana – Dream City) which includes geotechnical investigation, utility shifting and building condition surveys.
For more updates, check out my Home Page!
– TMRG