Six global consortia comprising of engineering design firms have submitted expression of interest (EOI) applications for the General Engineering Consultant (GEC) contract of Surat Metro's 40.35 km Phase 1 project.
The role of the General Engineering Consultant would include design / design review, system integration, assistance in procurement, construction supervision (including monitoring of statutory obligations), project management services, contract administration and interface management including assistance in testing and commissioning of the Surat Metro rail project.
Gujarat Metro Rail Corporation (GMRC) invited EOI applications in April-end right after AFD indicated it will support the development of the project through a 250 million euro (approx. Rs. 2071 crore) loan.
Bidders:
DB Engineering & Consulting GmbH + AYESA + Korea Rail + DOHWA
Geodata Engineering S.p.A. + LBG + Hill International
MM S.p.A + Mott Macdonald + SMEC
Nippon Koei India Pvt. Ltd. + RITES + TPF
Rodic Consultants Pvt. Ltd. + Artelia + Italffer + TYPSA
SYSTRA + AECOM + EGIS
EOI Notice No: GMRC/EOI/GEC/SURAT/2020
Brief Scope: The Gujarat Metro rail Corporation (GMRC) Limited has applied for a financing from Agence Française de Développement ("AFD") and Kreditanstalt fur Wiederaufbau (KFW), and intends to use part of the funds thereof for payments under the following project of Appointment of General Engineering Consultant for Surat Metro Rail Project – PH-I. Detailed scope of services shall be issued during RFP stage.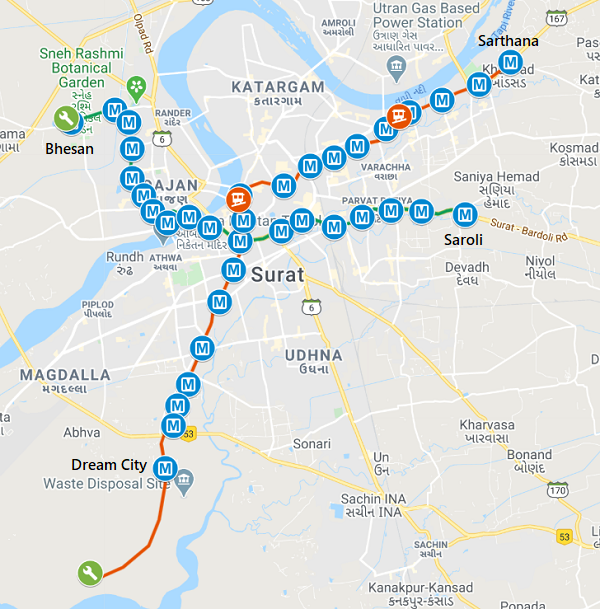 GMRC is expected to take a couple months to evaluate the applications. The shortlisted bidders will then be invited to the proposal (RFP) stage for submitting technical & financial bids.
Meanwhile, the last date to submit bids for the network's first elevated portion (11.6 km Package CS1) connecting Kadarsha Ni Nal – Dream City has been moved to September 21 while the submission date for the 2 underground packages (7.02 km Packages CS2 and CS3) has been moved to September 22.
For more updates, check out the Surat section of The Metro Rail Guy!
– TMRG