Six design and engineering firms have submitted bids to prepare the final alignment design including an aerial LiDAR survey for the Detailed Project Report (DPR) of the 760 km Varanasi – Howrah High Speed Rail (VHHSR Bullet Train) project in Uttar Pradesh, Bihar and West Bengal.
LiDAR survey is a helicopter-based laser surveying technique for rapid and accurate collection of topographic data, and similar surveying works commenced in December 2020 for the 865 km Delhi – Varanasi High Speed Rail (DVHSR Bullet Train) corridor's alignment.
India's National High-Speed Rail Corporation Limited (NHSRCL) invited bids for this service in mid-January with a completion period of 150 days and estimated cost of Rs. 17.56 crore. Technical bids were supposed to be opened on this past Friday but were opened today.
Lead Bidders:
Growever Infra Pvt Litd
Lokanath Construction and Survey Engineering
Monarch Surveyors and Engineering Consultants. Pvt. Ltd.
RITES Ltd. (likely in a JV with Geokno India Pvt. Ltd.)
RS Enterprises
SECON Pvt. Ltd.
Package: NHSRCL/CO/CA/LIDAR/2021/02
Brief Scope: Final Alignment design including Aerial LiDAR survey and other related works for Varanasi-Howrah High Speed Rail Corridor (about 760 kms. long)
The Varanasi Station will be built as part of the 865 km Delhi – Varanasi HSR line. For the Varanasi – Howrah extension of that line, NHSRCL hasn't revealed a tentative list of stations, but they're expected to come up at Buxar, Arrah, Patna, Bihar Sharif – Nawada, Dhanbad, Asansol, Durgapur, Bardhaman and Howrah.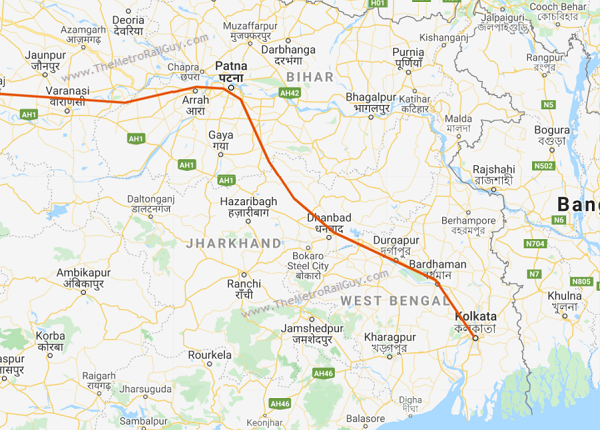 The bids have now been sent for technical evaluation which can take up to a month to complete. When that is done, the financial bids of the technically qualified bidders will be opened to reveal who's the lowest bidder and most likely contractor for this service.
In related news, Larsen & Toubro recently started their own LiDAR surveying works for packages C4 and C6 of the 508 km Mumbai-Ahmedabad Bullet Train.
Back on Wednesday, NHSRCL opened technical bids for the Varanasi – Howrah HSR line's survey to identify utilities and power sourcing options for substations.
Bidders:
Chetak Engineers
Gaveshana Geosciences Pvt. Ltd.
ImaGIS Engineering Solutions Pvt. Ltd.
RS Enterprises
Vogue Construction and Consultancy Services Pvt. Ltd.
Contract: NHSRCL/ADI/VH02/Utility Survey/392/.2
A full list of tenders/contracts for this line and their status can be viewed here.
For more updates, check out my Home Page!
– TMRG