The winner for another RRTS systems package is now known.
STRABAG International GmbH in February was awarded a Rs. 167.50 crore contract for commissioning the 82.15 km Delhi – Meerut RRTS Line's underground tunnel ventilation system (TVS) and environmental control system (ECS).
National Capital Region Transport Corporation (NCRTC) had invited tenders (bids) for this package in July 2020 for deployment on the line's two underground sections which have a combined length of roughly 12 km and 4 stations:
Package 4: New Ashok Nagar – Sahibabad in Delhi with 1 station at Anand Vihar – awarded to STEC
Package 8: Brahmapuri – Begumpul in Meerut with 3 stations at Meerut Central, Bhaisali and Begumpul – awarded to AFCONS Infra
NCRTC had estimated Package 23 to cost $33.83 million (approx. Rs 250 crore) and assigned a completion deadline of 1550 days (4.25 years) from when the contract is awarded.
Technical bids were opened on October 23 to reveal 4 bidders: Blue Star, ETA Engineering, STRABAG and Voltas, and financial bids were opened on January 15. Apparently ETA Engineering was L2. If someone is aware of all financial bids' values, please leave a comment below and I can add it in here.
March 15 Update: Here are the bid values:
| | |
| --- | --- |
| Firm | Bid |
| STRABAG International | Rs. 167.50 Cr |
| ETA Engineering | Rs. 198 Cr |
| Blue Star | Rs. 231 Cr |
| Voltas | Disqualified |
Contract: Package 23
Brief Scope: Design, Detail Engineering, Supply, Installation, Testing and Commissioning of ECS, TVS, Electrical , ECS-E and M BMS, TVS BMS and TVS SCADA OCC/BCC Systems of 4 Under Ground Stations including Ventilation Buildings on Delhi-GZB-MRT RRTS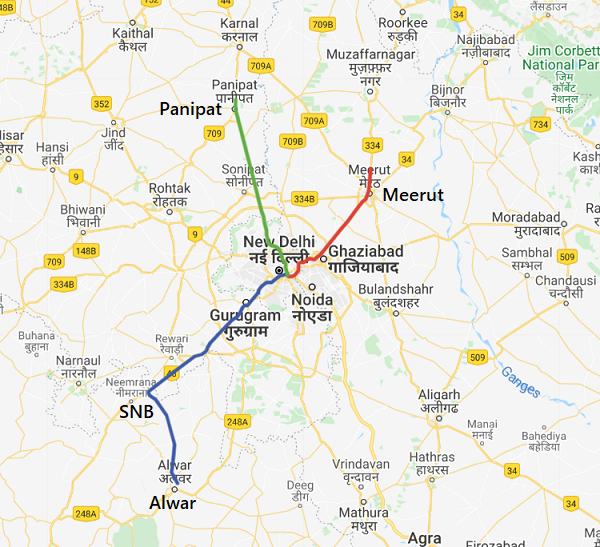 With this development, I'm now missing information about the winners for the following 3 packages where financial (price) bids have been opened. If someone knows the winner for any, just leave a comment below or shoot me a message via the contact page.
Package 10: Architectural Finishing and Electrical & Mechanical (E&M) systems at 7 elevated stations – there were 6 bidders
Package 12B (2 lots): Roof-work at 12 elevated stations – 3 bidders submitted a bid for each lot (total 6 bids)
Package 16 (2 lots): 2000 MT of 1080 Grade Head-Hardened and 4000 MT of regular 880 Grade rails within Duhai Depot, Modipuram Depot and Jangpura Stabling Yard – 2 bids were received for Lot-1 and 1 bid for Lot-2 (bidder names are unknown).
A list of the Delhi – Meerut RRTS project's packages (civil & systems) and their status can be viewed here.
For more updates, check out my Home Page!
– TMRG