Afcons Infrastructure today emerged as the lowest bidder for constructing the 5.68 km underground Package 8 of the 82.15 km Delhi – Meerut (RRTS) Line, after officials from the National Capital Region Transport Corporation (NCRTC) opened financial bids submitted by different infrastructure companies.
After the 5.6 km New Ashok Nagar Ramp – Anand Vihar – Sahibabad Ramp Package 4 in Delhi, for which STEC emerged as the lowest bidder in June, Package 8 is the second and final underground section of the line. It consists of 3 stations at Meerut Central, Bhaisali and Begumpul – and out of these – the ones at Meerut Central and Bhaisal will exclusively serve Meerut's local metro system and be serviced by ten 3-coach Bombardier trains. 
NCRTC invited tenders for this package in February 2020 with an estimate of approximately Rs 1750 crore and expects the assigned contractor to complete work in 1310 days (3.6 years) from when the contract is awarded. Technical bids were opened in July to reveal 5 bidders. During technical bid evaluation – STEC was found to be technically non-compliant to the tender conditions, so their financial bid was not opened.
Financial Bid Values:
| | |
| --- | --- |
| Firm | Bid |
| Afcons Infrastructure Ltd. | Rs. 1529.10 cr |
| Larsen & Toubro (L&T) Ltd. | Rs. 1602 cr |
| Yapı Merkezi İnşaat ve Sanayi A.Ş. – Tata Projects Ltd. (YM-TPL JV) | Rs. 1620.33 cr |
| Gulermak Agir Sanayi Insaat ve Taahh. A.S. (Gulermak) | Rs. 1707.50 cr |
| Shanghai Tunnel Engineering Co., Ltd. (STEC) | Disqualified |
Tender No: Package 8 – DM/CN/COR-OF/099
Scope: Online bids are invited for Package-8, Design and Construction of Tunnels by TBM from near Brahampuri DN Ramp to Begumpul UP Ramp and 3 Under Ground Stations at Meerut Central, Bhaisali & Begumpul by Cut & Cover Method including Architectural Finishing and Design, supply, installation, testing and commissioining of Electrical and Mechanical Systtems including Fire detection & suppression System and Hydraulic systems on Delhi – Ghaziabad – Meerut Corridor.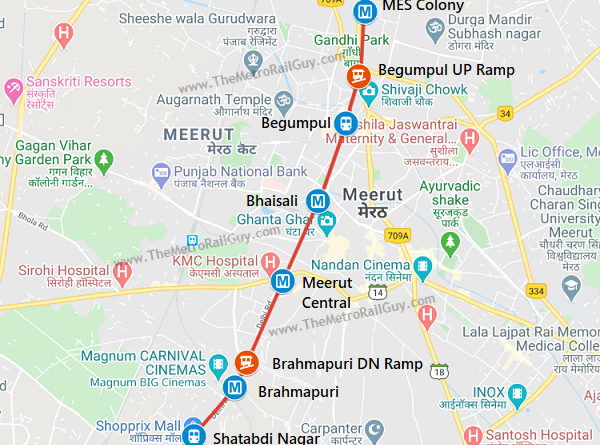 If no issues arise during financial evaluation, then Afcons Infrastructure will go on to be awarded with Package 8's contract with a completion period of 1310 days (3.6 years). After the 4.3 km Package 6 (Sarai Kale Khan – New Ashok Nagar), this is Afcons' second major win for civil construction work on this semi high-speed rail line.
With this development, the likely contractors for all civil packages of the main-line's construction are now known. Here's the current status of each:
A list of all 25+ packages (civil & systems) and their status can be viewed here.
For more updates, check out the NCR RRTS section of The Metro Rail Guy!
– TMRG