November 11 Update: Larsen & Toubro has been awarded Package 7's Rs 723.35 crore contract.
October 9 Original Post:
Larsen & Toubro today emerged as the lowest bidder for constructing the roughly 12 km elevated Package 7 of the 82.15 km Delhi – Meerut RRTS Line, after officials from the National Capital Region Transport Corporation (NCRTC) opened financial bids submitted by different infrastructure companies.
This section on the main-line with 5 stations consists of 2 disjointed parts on either side of Meerut city and will be connected by the underground Package 8 for which technical bid evaluation is underway.
Northern end of Shatabdi Nagar to Brahampuri DN Ramp with 1 station at Brahmapuri (approx 2 kms)
Begumpul UP Ramp to Modipuram with 4 stations at MES Colony, Daurli, Meerut North and Modipuram (approx 10 kms)
NCRTC had invited tenders for this package in April 2020 with an estimate of $103.72 million (approx. Rs 757.23 crore), and expects the assigned contractor to complete work in 910 days (2.5 years) from when the contract is awarded. Technical bids had been opened in July to reveal 5 bidders.
Financial Bid Values:
| | |
| --- | --- |
| Firm | Bid |
| Larsen & Toubro (L&T) Ltd. | Rs. 723.35 cr |
| Afcons Infrastructure Ltd. | Rs. 736.46 cr |
| NCC Ltd. | Rs. 749.22 cr |
| Dineshchandra R. Agrawal Infracon Ltd. | Rs. 758.39 cr |
| DBL – Sam India JV | Rs. 774.82 cr |
Tender No: Package 7 – DM/CN/COR-OF/108
Scope: Construction of elevated viaduct from end of Shatabdi Nagar Station to Brahmpuri DN ramp and from Begumpul UP Ramp to Modipuram end including Modipuram Depot entry Ramp and 5 elevated stations of Delhi – Ghaziabad – Meerut RRTS Corridor.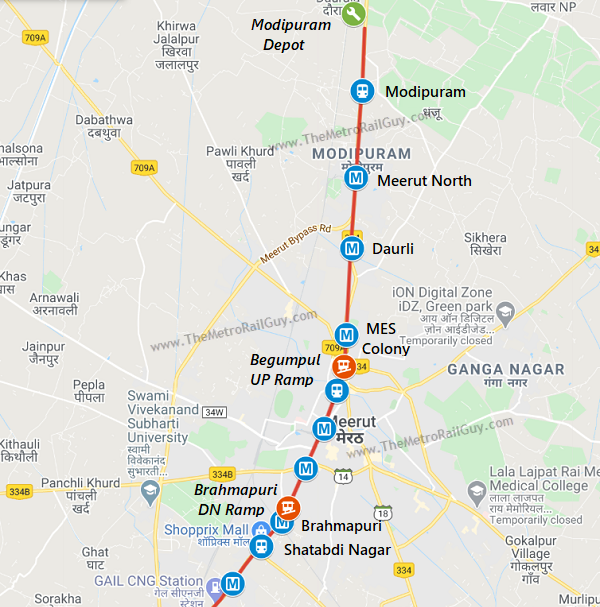 4 out of 5 stations in this package – the ones at Brahmapuri, MES Colony, Daurli and Meerut North – will exclusively serve Meerut's local metro system and serviced by ten 3-coach Bombardier trains.
If no issues arise during financial evaluation, then Larsen & Toubro will go on to be awarded with Package 7's contract with a completion period of 910 days (2.5 years). After the 33 km Package 3, this is Larsen & Toubro's second major win for civil construction work on this line, and overall third including Package 17 which involves track-work.
With this development, for the main-line's construction – now only financial bids for the underground Package 8 within Meerut city need to be opened. A list of all packages (civil & systems) and their status can be viewed here.
For more updates, check out the NCR RRTS section of The Metro Rail Guy!
– TMRG