Pune Municipal Corporation's General Body on Wednesday approved a 5.464 km underground extension of the 16.589 km Purple Line-1 from Swargate to Katraj in south Pune.
Back in January 2020, this extension's Detailed Project Report (DPR) was presented by the Maharashtra Metro Rail Corporation Limited (Maha-Metro) to the Pune Municipal Corporation. It had estimated the extension to cost Rs 4283.72 crore and have a daily ridership of 95,000 riders in 2027 and 1,97,000 in 2057.
The DPR was subsequently approved by PMC's standing committee in March 2020, and with this week's development – the DPR will now be presented to the state government for its cabinet's approval.
There have been conflicting reports of the line's route in the past (see both) , but reports from Hindustan Times and Maharashtra Times suggest it'll connect Gultekdi (Market Yard), Saibaba Nagar and Katraj. I haven't seen any official maps of how this route's alignment will look like, so here's an indicative version: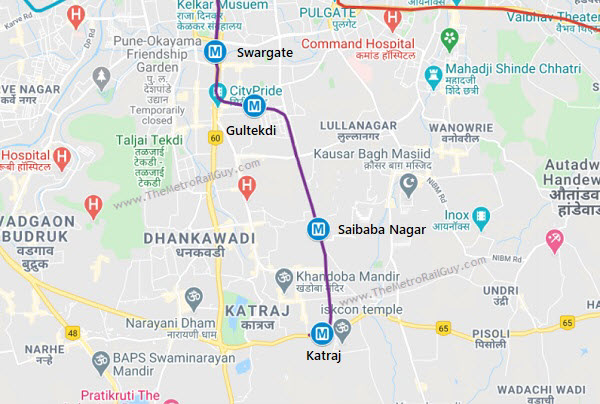 Fun facts from HT:
Length of the proposed project: 5.464 km
Estimated cost per kilometer: ₹783.85 crore
Total estimated cost of project: ₹4,283.72 crore
Estimated cost for rehabilitation and resettlement: ₹27.61 crore
Estimated cost for land acquisition: ₹111.6 crore
The way things work, it could take anywhere from a year to two for the state government's cabinet to approve this project, followed by a similar timeline by the central government.
Just to give you an idea, the same Purple Line's 4.41 km PCMC – Nigdi extension was approved by PCMC's standing committee in December 2018 and the Maharashtra government's cabinet just approved it in February 2021. That's a duration of 27 months. For the Katraj extension, we're currently at month number 12 since PMC's standing committee approved it. I'm not expecting a similar 1:1 timeline, but just want to temper expectations.
For more updates, check out my Home Page!
– TMRG