Bangalore Metro Rail Corporation Ltd (BMRCL) today invited tenders for completing the balance / pending work on the 21.386 km Pink Line's 7.501 km elevated section between Dairy Circle Ramp and Kalena Agrahara.
This section's Rs. 578.70 crore contract under the 73.92 km Phase 2 project was originally awarded to Simplex Infrastructures in September 2017 with a 27 month deadline. The contract was finally terminated in February 2021 for poor progress on key performance indicators over a period of at least 15 months.
Tender: BMRCL/Phase-2/Reach -6/Elevated/Via&Stn/RC/2021/75
Package: R6-CC-01BW
Brief Scope: Construction of Elevated Structures (Viaduct & Stations) of length 7.50 Km (approx.) from Gottigere to Swagath Road Cross (Chainage 00.00m to 7501.818m) including Kothanur Depot entry line, road widening & allied works and 5 numbers of metro stations viz. Gottigere, Hulimavi, IIMB, JP Nagar 4th Phase, Swagath Road Cross in Reach-6 line of Bangalore Metro Rail Project, Phase-2 (Balance Works)
Estimate: Rs. 339.21 crore
Deadline: 21 months
Bid Submission End Date: May 6, 2021 at 03:00 PM
Technical Bid Opening Date: May 6, 2021 at 03:30 PM
This section's five stations are located at Kalena Agrahara (formerly Gottigere), Hulimavu, IIM-B, JP Nagar 4th Phase, and Tavarekere (formerly Swagath Road).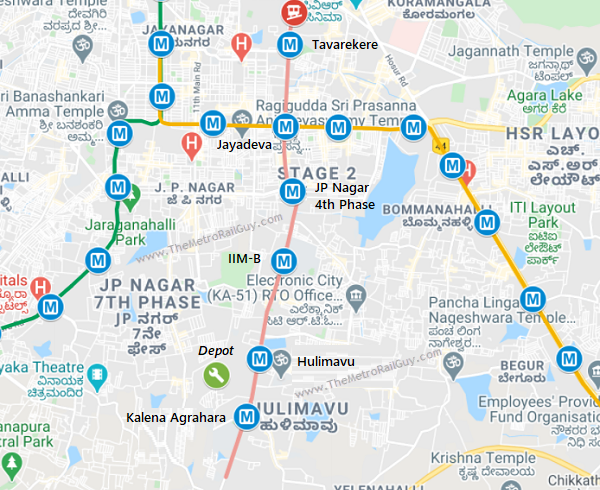 BMRCL's March newsletter indicates that 37% civil work had been completed so far, so there's ways to go for this line to become operational which I estimate would happen in 2024. Things may further get delayed as bidding for its systems (rolling stock, signaling system etc.) has still not started.
For more updates, check out my Home Page!
– TMRG