Madhya Pradesh Metro Rail Co Ltd. (MPMRCL) on Wednesday invited tenders (bids) for the construction of 8 elevated stations between AIIMS and Subhash Nagar on Bhopal Metro's 14.99 km Line-2.
This line of the Bhopal Metro Phase 1 project will partially be funded by the European Investment Bank (EIB) and connect Karond Circle – AIIMS through a mix of 16 elevated and underground stations. Per the specifications listed, elevated station boxes will be 21 meters wide and 140 meters wide to handle a maximum of 6 coaches.
This tender notice comes 34 months after Bhopal Metro's first and so far only civil tender notice came out in May 2018. The scope for that included this same section (AIIMS – Subhash Nagar)'s elevated viaduct which has been under construction by Dilip Buildcon since early 2019 with a completion deadline of 27 months – view construction images.
Tender No: 354/MPMRCL/2021/Package BH-02-EIB
Package: BH-02
Estimated Cost: Rs. 421 crore
Deadline / Completion Period: 847 days (2.32 years)
Pre-Bid Meeting: 12-May-2021 11:00 AM
Bid Submission End Date: 10-Jun-2021 04:00 PM
Technical Bid Opening Date: 11-Jun-2021 04:30 PM
Brief Scope: Design and Construction of Eight (8) Elevated Metro Rail Stations including Viaduct portion within the stations and Transition spans on either side of the stations (AIIMS, Alkapuri, Habibganj Naka, Habibganj, M.P Nagar Zone-1, DB City Mall, Kendriya Vidyalaya and Subhash Nagar) for Bhopal Metro Rail Project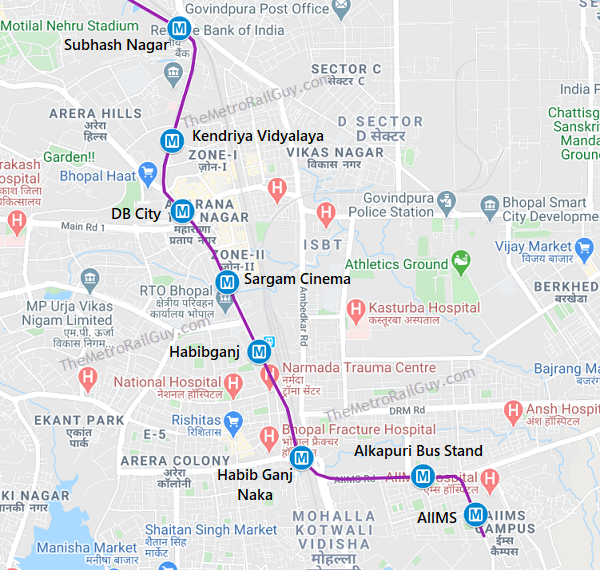 Per the notice, this new package will be funded by the European Investment Bank (EIB) with whom the Government of India signed a EUR 400 million (approx. Rs. 3400 crore) loan in December 2019. The first package was funded through equity contribution by the central & state governments.
Whether the floodgates have finally opened to all EIB-funded packages or not remains to be seen.
For more updates, check out my Home Page!
– TMRG
Hat-tip: Hari Puttar