Seven rail firms have submitted bids to supply and install ballastless tracks for Kolkata Metro Line-6's Nicco Park – Titumir section, after Rail Vikas Nigam Ltd. (RVNL) today opened technical bids.
This 12.05 km elevated section with 11 stations is under construction by Afcons Infrastructure (Package ANV3: NICCO Park to Sub CBD-1) and ITD Cementation (Package ANS3: Sub CBD-1 to Titumir). There are still multiple gaps in the viaduct due to a host of land acquisition-related issues.
RVNL invited bids for this track-work package in February with an estimated value of Rs. 130.48 crore and completion deadline of 24 months. When bids were opened today, 4 firms' bids were not accepted, likely due to financial reasons or inadequate information, and disqualified right away.
Bidders:
Ram Enterprises (DISQUALIFIED)
Rahee Infratech Ltd.
Tomar & Company (DISQUALIFIED)
Shelke Construction (DISQUALIFIED)
Deepak Singh (DISQUALIFIED)
Subhash Infraengineers Pvt. Ltd.
Texmaco Rail & Engineering Ltd.
Contract: RVNL/KOL/NGA-AIRPORT/METRO/BLT/NICCOPARK-TITUMIR/1
Scope: Construction of Double Line Ballast Less Track ( BLT) for Elevated Viaduct Portion Between Nicco Park Having Ch. (13841.585 M) to Titumir Ch. (25891.527 M) including Points and Crossings, etc. In Connection with Construction of Metro Railway Corridor from New Garia to Airport Corridor, in the City of Kolkata
The remaining 3 bids from Rahee, Subhash and Texmaco have now been sent for technical evaluation which can take a couple months to complete. When that is done, the financial bids of the technically qualified bidders will be opened to reveal who's the lowest bidder and most likely contractor.
This is the second track-work package for Line-6 which will connect New Garia and Biman Bandar (Kolkata Airport) via 24 stations. Track installation work by Rahee Infratech for its first package (6.5 km New Garia to VIP Bazar) started in July 2020. They've completed installation for roughly 4.5 kms where access has been provided, and expect further access to be granted in July.
Some snaps: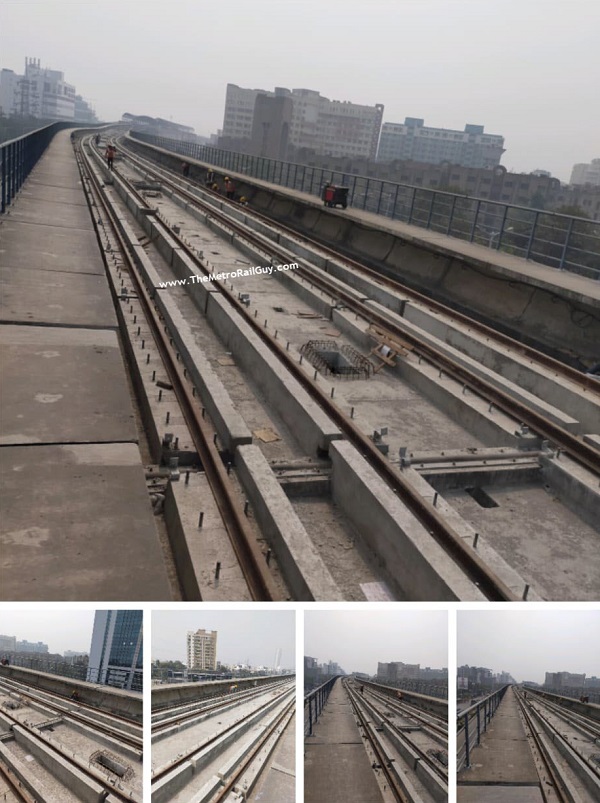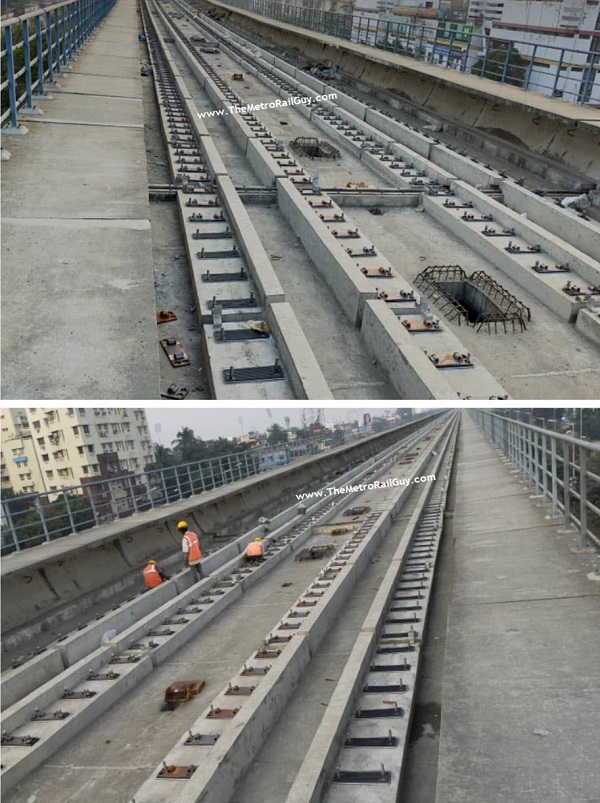 For more updates, check out my Home Page!
– TMRG