Rail Vikas Nigam Ltd. (RVNL) is the only bidder for constructing Indore Metro's 10.927 km MR10 Road – Gandhi Nagar section on 'Super Corridor' road, after Madhya Pradesh Metro Rail Corporation (MPMRC) opened technical bids today.
Package IN-03 with 9 elevated stations is Indore Metro Phase 1's third civil package on the Yellow Line and the very first integrated package with both viaduct & station work. This package along with others, such as IN-02 which saw 3 bidders today, will eventually form a ring line around Indore city connecting Palasia – Railway Station – Rajwara- Airport – Bhawarsala via 30 elevated stations.
MPMRC invited tenders for this package in March with an estimated cost of Rs. 1000 crore and completion period of 847 days (2.32 years). This package will be funded through equity contribution of Government of India (GoI) and Government of Madhya Pradesh (GoMP).
Tender No: 273/MPMRCL/2021/Package IN-03
Package: IN-03
Brief Scope: Design and Construction of Elevated Viaduct between Ch.14+488 & Ch.25+415, viaduct connecting Depot leading upto interface location, Nine (9) Elevated Metro Rail Stations including all Civil, Structural, Roof structure, Mechanical, Electrical and Plumbing (MEP) works, Architectural finishes, Façade, Entry/Exits, FOB, Viaduct within the stations including Transition spans" for Indore Metro Rail Project Yellow Line.
The 9 stations will be located at Gandhi Nagar, Super Corridor 6, Super Corridor 5, Super Corridor 4, Super Corridor 3, Super Corridor 2 and Super Corridor 1, Bhawarsala Square and MR 10 Road. Scope also includes constructing a roughly 575m depot-line.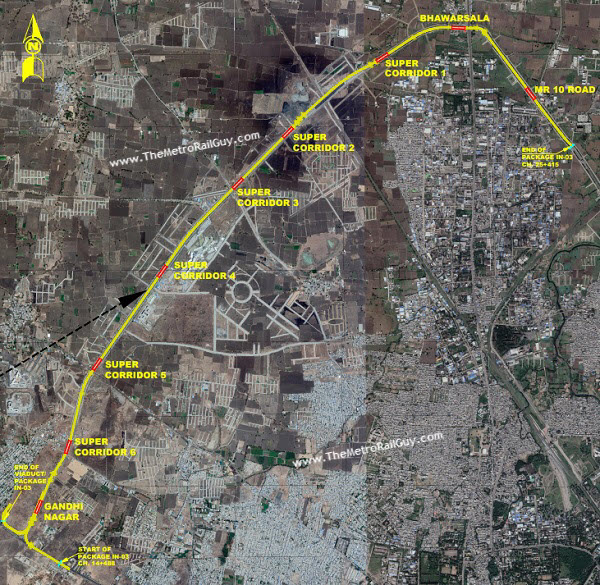 Executives and employees of many construction firms I'm in touch with haven't had great things to say about MPMRCL or their General Consultant team, and the industry's response to this package is indicative of that.
If MPMRCL is satisfied with just 1 bid, then RVNL's bid will be sent for technical evaluation which can take a couple months to complete. If RVNL qualifies, then their financial bid will be opened to see if their bid is within a certain range of the budgeted estimate for a contract to be awarded. Long way to go here. Personally, I'd think this will be re-tendered out. Stay tuned…
For more updates, check out the Indore section or my Home Page!
– TMRG