December 29, 2021 Update: Contract LOA to YFC – MCL JV has been issued by DMRC.
July 19, 2021 Original Post: YFC Projects today emerged as the lowest bidder to build the roughly 8 km elevated Package PC-04 of Patna Metro's 16.86 km Line-1 after Delhi Metro Rail Corporation (DMRC) opened financial bids.
This package of Patna Metro Phase 1 comprises of two disjointed elevated sections on either side of Line-1 which connect Danapur Cantonment with Khemni Chak through 14 stations.
The first – a roughly 4 km section connecting Danapur with Patliputra Ramp through 4 stations, and the second – another roughly 4 km section with 3 stations connecting Mithapur Ramp with Khemni Chak Station which'll allow users to switch over to the 14.05 km Line-2 (Patna Junction Railway Station – New ISBT).
DMRC invited tenders for this package's construction in September 2020 with an estimated cost of Rs 527.62 crore and deadline of 36 months. Technical bids were opened in November 2020 to reveal 4 bidders. During evaluation, U.P. State Bridge Corporation Ltd. was disqualified as their bid was found non-responsive to the bid conditions.
Financial Bid Values:
| | |
| --- | --- |
| Firm | Bid (Rs crore) |
| YFC Projects Ltd. – MCL JV | 553.49 |
| Sam India Builtwell Pvt. Ltd. | 587.63 |
| NCC Ltd. | 614.94 |
Package PC-04's Scope: Part Design and Construction of Elevated Viaduct, elevated ramp at Mithapur & Patliputra and seven stations viz Danapur, Saguna More, RPS More, Patliputra, Mithapur, Ramkrishna Nagar & Jaganpura Station (Excluding Architectural Finishing & PEB works) in Corridor-1 of Phase-I of Patna MRTS.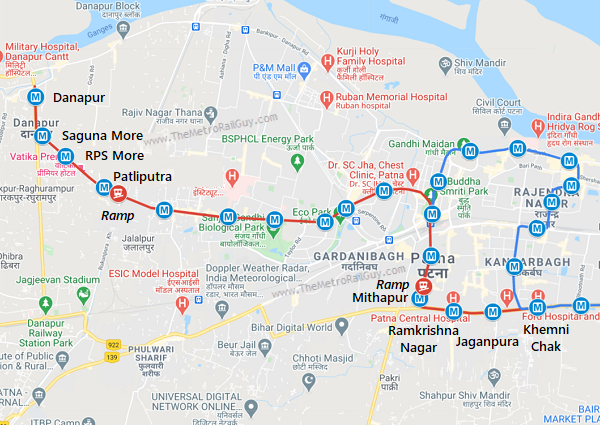 YFC Project's bid was roughly 4.9% higher than DMRC and PMRC's budgeted estimate, but that should not be a deal breaker. There might be some negotiations required to bring down the final contract value, but I expect contract to be awarded in the coming weeks with basic ground work starting in Q4 2021.
Larsen & Toubro today emerged as the lowest bidder for underground Package PC-03, so it's good to see the project has overcome funding issues it faced over the past year. A list of all Patna Metro packages and their status can be viewed here.
For Line-1 – tender notice(s) are still pending for the roughly 8 km underground section between Patlipura Ramp and Mithapur Ramp. That section will comprise of 6 stations at Rukanpura, Raja Bazar, Patna Zoo (formerly JD Women's College), Vikas Bhawan (formerly Raj Bhavan), Vidyut Bhawan, and Patna Junction (interchange).
For more updates, check out the Patna Metro section or my Home Page!
– TMRG