Per MahaMetro's press release, Janak Kumar Garg – the Commissioner of Metro Railway Safety (CMRS) has approved commercial operations on the 1.49 km Sitabuldi – Kasturchand Park section of Nagpur Metro's Orange Line.
This is the first leg of Nagpur Metro Phase 1's 7.144 km elevated Reach-2 (Sitabuldi to Automotive Square) which will become operational in the coming weeks. Testing (trial runs) on the 630m Sitabuldi-Zero Mile section started in June 2019 and were extended by another 860m to Kasturchand Park in June 2021.
Between August 3-5, the CMRS' team visually inspected both Zero Mile and Kasturchand Park stations – their passenger amenities & station control room's facilities – and then performed a trolley-inspection followed by speed trials by one of Nagpur's CRRC trains.
MahaMetro hasn't disclosed the conditions set by the CMRS to start operations.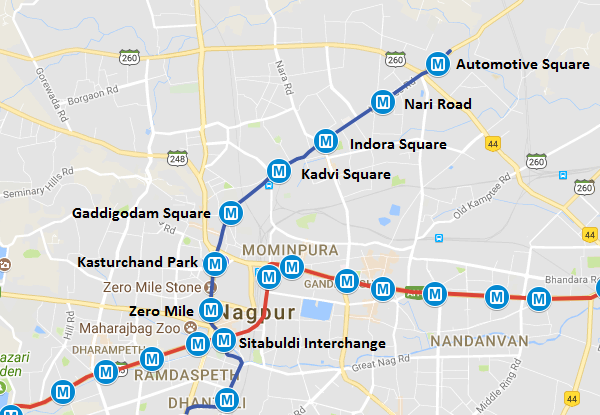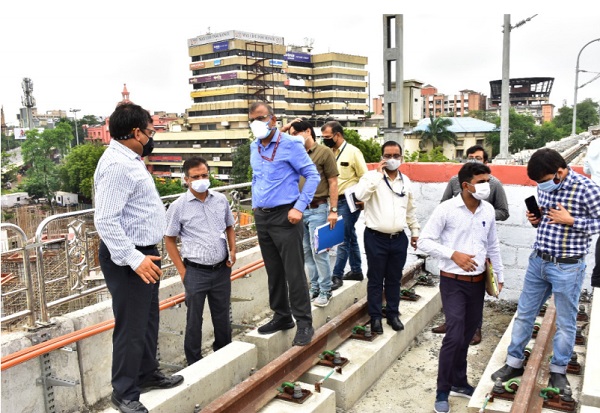 Zero Mile Station will eventually become a part of a 20-storey tower and was this summer renamed to Zero Mile Freedom Park Station. Back in May 2016, MahaMetro revealed its concept design by a consortium of Ratan J Batliboi Consultants, GMP international & Shirish Patel and Associates Consultants.
Some details and snaps of both stations released by MahaMetro:
Zero Mile Station – it will be housed in a 20 floor building having four levels of parking. The concourse level will have ticketing counter and retail shops. There will be 13 commercial floors above the station. The new station will enable passengers to reach Civil Lines area
Kasturchand Park Station: This station will enable Nagpurians to travel to Sadar Bazar using the Metro. It has all modern amenities while its façade has a heritage look as the lattices in Kasturchand Park pavilion have been replicated on a larger scale in it.
When this section goes live, the city's Orange Line will become roughly 14.5 km long connecting Khapri – Kasturchand Park via 13 stations, and the network will become 24.4 km large with 22 stations – view Phase 1 route map and info.
For more updates, check out the Nagpur section or my Home Page!
– TMRG