September 21 Update: Kochi Metro's PMC contract's tender has been cancelled due to "administrative reasons/issues"
Original Post:
Back on September 3, Kochi Metro Rail Ltd. (KMRL) opened technical bids for Kochi Metro Phase 2's Project Management Consultant contract to reveal 8 firms had submitted tenders.
Package KBPMC-01 is the first significant pre-construction tender for this brand new phase which will feature a 11.2 km new elevated corridor, named Pink Line, with 11 stations connecting JLN Stadium – Kakkanad – Infopark / Smart City.
Kerala Government's state cabinet had approved Phase 2's construction in July 2018 with an estimated cost of Rs. 2,310 crore, and the Central Government's cabinet approval is currently pending.
KMRL had invited tenders for this consultancy-service in February 2021 and expects the assigned PMC to be onboard for 1643 days (4.5 years).
Note that some of the bidders mentioned below may be in a joint venture with others. If you're aware of all members in each consortia, then drop a comment below or send me a message using the contact page.
Lead Bidders:
Aarvee Associates Architects Engineers and Consultants Pvt. Ltd.
AECOM India Pvt. Ltd.
Louis Berger Consulting Pvt. Ltd.
Rail Vikas Nigam Ltd. (RVNL)
RITES Ltd.
SMEC (India) Pvt Ltd.
SYSTRA MVA Consulting India Pvt. Ltd.
Tata Consulting Engineers Ltd. (TCE)
Tender No: KMRL/PRJ/ DnP/128/ 2020/KBPMC-01
Brief Scope: Project Management Consultant for Phase-II Corridor from JLN Stadium to Infopark via Kakkanad of Kochi Metro Rail Project
Pink Line's 11 stations will come up at Jawaharlal Nehru (JLN) Stadium (new station box next to Blue Line), Palarivattom Junction, Palarivattom Bypass, Chembumukku, Vazhakkala, Padamughal (formerly Kunnumpuram), Kakkanad Junction, Cochin SEZ (Special Economic Zone), Chittethukara, KINFRA (formerly Rajagiri), and InfoPark / Smart City (connected to Kochi Water Metro). As mentioned in the past, a station planned at InfoPark 1 is no longer in the works.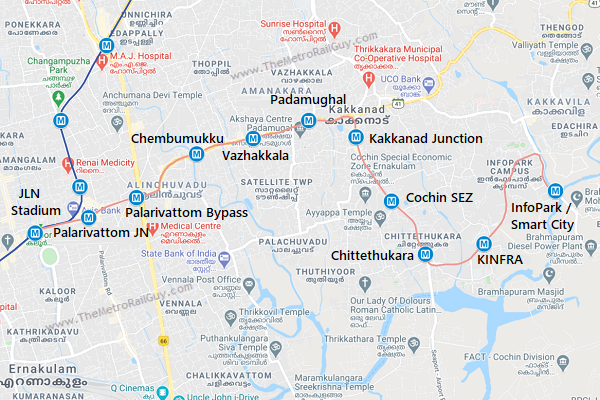 The PMC's appointment will likely be on the QCBS (Quality and Cost Based Selection) basis with a two stage (technical & financial score-based) process getting adopted for evaluating proposals.
Prior to this, KMRL had appointed Delhi Metro Rail Corporation (DMRC) for Phase 1 (Aluva to Petta) and Aarvee Associates for Phase 1B (SN Junction to Thripunithura)'s PMC roles.
For more updates, check out the Kochi section or my Home Page!
– TMRG