December 6, 2021 Update: CMRL has issued LOA to URC Construction with a contract value of Rs. 2845122153.95 (284.51 crore).
November 9, 2021 Original Post: URC Construction in October-end emerged as the lowest bidder to construct Chennai Metro's new Madhavaram Depot (carshed) to serve the new 45.813 km Line-3 (Madhavaram – SIPCOT 2) and Line-5 (Madhavaram – Sholinganallur).
Coming up in north Chennai, this train maintenance depot of the Phase 2 project will be developed on a 68.6 acre government-owned land parcel and be larger than Phase 1's 65.4 acre Koyambedu Depot built for handling Phase 1's green & blue line trains.
The depot will be used to stable & maintain a majority of 112 3-coach trains belonging to both lines. Within those, 70 trains will be procured (bid opening scheduled on December 9), while 42 trains will be leased (one EOI application received from Titagarh).
Design details such as the number of stabling, workshop, inspection lines wasn't mentioned in the basic tender notice and still remains unknown at this time. The scope also includes construction of administrative buildings and internal roads.
CMRL invited bids for this package in February with a 1030 days (2.8 years) deadline and an undisclosed estimate. Technical bids were opened in July to reveal 6 bidders.
Financial Bid Values:
| | |
| --- | --- |
| Firm | Bid (Rs. Crore) |
| URC Construction (URCC) | 284.51 |
| Power Mech Projects | 293.40 |
| BGR Energy Systems | 324.61 |
| JMC Projects (India) | 324.83 |
| ISGEC Heavy Engineering | 348.98 |
| HCC – KEC JV | 357.32 |
Tender No: PHASE-II/CORR-5/CP16-MMC-DPT/2021
Brief Scope: Construction of metro train depot with administration & workshop buildings at Madhavaram Milk Colony include civil, MEP, roofing, signage, architectural finishes, STP, external drainage, internal roads, boundary wall and all associated works in Corridor-5 of CMRL Phase-II Project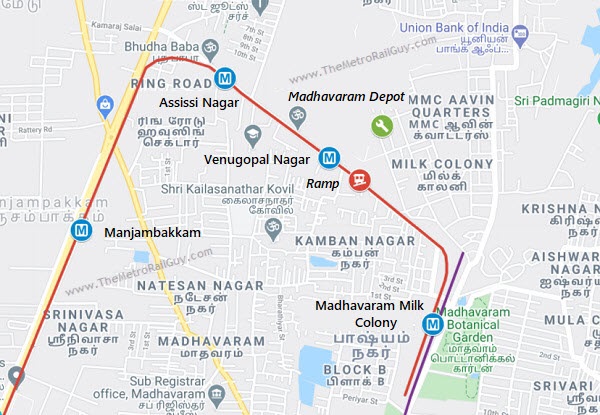 Like other Phase 2 packages, CMRL's estimate for this package is also unknown, so I can't provide an assessment on how URC's bid is placed and what next steps look like.
Operations on Line-3 and Line-5 will also be supported via a new stabling yard at SIPCOT which is a part of Package C3-ECV-01 (Sholinganallur – SIPCOT 2). CMRL received 3 bids for it in July and technical bid evaluation is still underway.
A list of all Phase 2 civil packages and their status can be viewed here.
For more updates, check out the Chennai section or my Home Page!
– TMRG