November 15 Update: NHAI has issued contract LOA to APS Hydro Pvt. Ltd. – Mathiyan Construction Pvt. Ltd. (JV).
November 12 Original Post: APS Hydro Pvt. Ltd. on Monday emerged as the lowest bidder to construct the 14.60 km Package 5 of the Delhi – Meerut Expressway project (NE-3).
This 4 lane connector or spur is also referred to as Phase 5. It will connect Zainuddinpur to Jahidpur from Km. 50.000 of Package 4 to Km. 8.520 of NH-235 and provide another route linking up to south Meerut.
National Highways Authority of India (NHAI) invited tenders for its construction in March 2021 with an estimate of Rs 524.96 crore and 2 year completion deadline. Technical bids were opened in September-end to reveal 25 bidders.
Financial Bid Values (Lowest 5):
| | |
| --- | --- |
| Firm | Bid (Rs. Crore) |
| APS Hydro Pvt Ltd. | 309.77 |
| Brij Gopal Construction Co. Pvt. Ltd. | 312.22 |
| KRC Infaprojects.com | 321.64 |
| Atlas Constructions Pvt. Ltd. | 326.99 |
| Raj Shyama Constructions Pvt. Ltd. | 329.00 |
Tender: NHAI/Delhi/DME/ Package-V/2021
Brief Scope: Construction of 4 lane Connector from Delhi Meerut Expressway (Km. 50.000 of Package IV) to Km. 8.520 of NH 235 in the State of Uttar Pradesh on EPC Mode (Length 14.600 Km).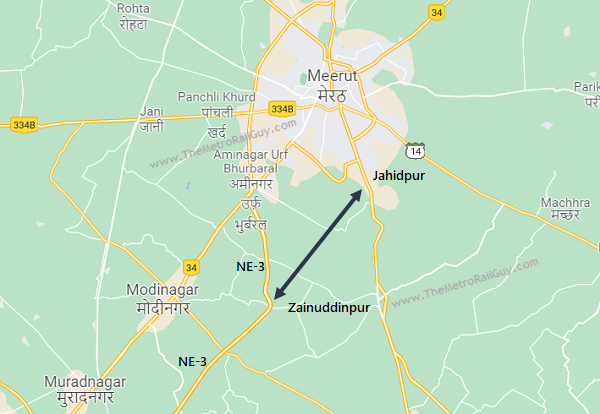 I've never heard of APS Hydro or the next two, but per their website they've been involved in upgrading roads to national highway standards.
The highest bidder (H1) was ITD Cementation with a staggering Rs. 651.11 crore bid. Looking at the ruthless way firms typically bid for road projects, I'm not entirely sure why ITD even participated.
As shared earlier – the upcoming 594 km Ganga Expressway project by UPEIDA will have its northern terminal in Phase 1 somewhere around Jahidpur and I'm expecting this little link to connect up with it in some fashion.
For more updates, check out the Expressways section or my Home Page!
– TMRG
Hat-tip: Ranjeet Singh