Atlas Constructions Pvt. Ltd – NKC JV on this Thursday was awarded a Rs. 2,150 crore contract for Package 26 of the 1350 km Delhi – Mumbai Expressway (DME) project per the latest status report published by the National Highways Authority of India (NHAI).
This 8 lane greenfield access-controlled section in eastern Gujarat's Dahod District is the final package of the 844 km Sohna – Vadodara section's 31 packages to be tendered out. Its 32.835 km alignment connects Chhayan village on the Madhya Pradesh-Gujarat border with Hathiyavan village.
NHAI had invited tenders for its construction back in June 2020 with a 2 year deadline. Technical bids were opened in July to reveal 18 bidders.
If someone has bid results or a copy of the LOA, then connect with me here and I can add them into the post.
Brief Scope: Construction of 8 Lane AC expressway starting from MP-Gujarat Border near Chhayan village and ending after Bridge Over Hadaf River near Hathiyavan village (Ch.696.920 to 729.755) section of Delhi-Vadodara GA(NH-148N) on EPC Mode under BMP in Gujarat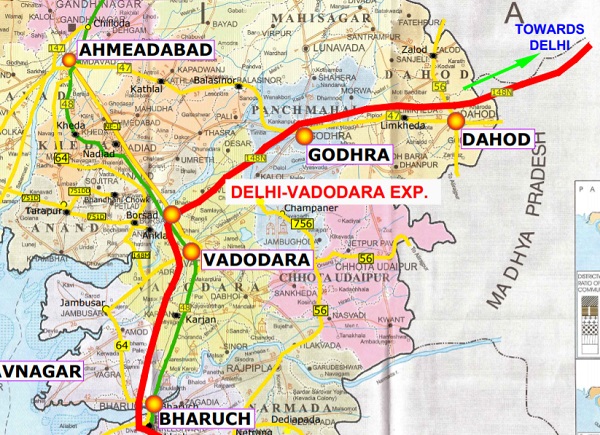 The entire Delhi – Mumbai expressway has been divided into 4 sections with a total of 52 tenders / packages – see a list and their status here.
With this development, all 31 packages on the 844 km Sohna – Vadodara section have finally been awarded.
While sections of it may open in 2022, the tendering delays encountered for this package and others on the 354 km Vadodara – Virar section and 92 km JNPT Spur makes me believe the entire project will be ready no sooner than 2025.
For more updates, check out the Expressways section or my Home Page!
– TMRG
Hat-tip: CK