December 24 Update: IRCON International has received contract LOA from NHAI.
December 18 Original Post: IRCON International on Friday emerged as the lowest bidder for the construction contract of Package 17 (Bhoj – Morbe) of the 1350 km Delhi – Mumbai Expressway (DME) project's JNPT Spur.
The 92 km JNPT Spur in Maharashtra will connect Virar with Jawaharlal Nehru Port via an 8 lane greenfield access-controlled road skirting around Mumbai. Its construction has been divided into 5 packages: 14, 15, 16, 17 and 18.
9.983 km Package 17 includes a 4.39 km tunnel through the 214.73 sq km Matheran Eco-Sensitive Zone. NHAI invited tenders for its construction in May with a Rs. 1453.52 crore estimate and 2.5 year deadline. Technical bids were opened in November to reveal 18 bidders.
Financial Bid Values (lowest 5)
| | |
| --- | --- |
| Firm | Bid (Rs. Crore) |
| IRCON | 1306.91 |
| DP Jain & Co. | 1429.11 |
| Ceigall India | 1450.27 |
| Shankarnarayana Construction | 1450.62 |
| PNC Infra | 1484.90 |
Brief Scope: Construction of Eight Lane Access Controlled Expressway from Km 69.800 to Km 79.783 (Bhoj to Morbe Section-SPUR of Vadodara Mumbai Expressway) in the state of Maharashtra on Hybrid Annuity Mode under Bharatmala Pariyojana (Phase II-Pkg XVII)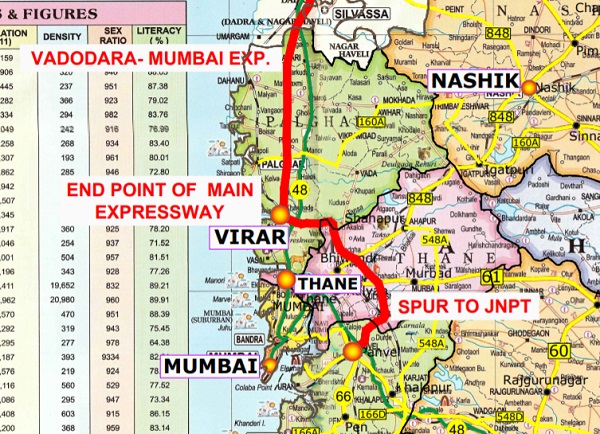 The project's feasibility report has a detailed description of its route with a list of interchanges, major and minor river bridges.
IRCON's bid was 10.09% lower than NHAI's estimate, so barring any extraneous issues they should go on to be awarded its construction contract in the coming months.
With this development, the likely contractors for 4 packages of the JNPT Spur are now known. Full fledged construction should start for all by Q2 2022.
The entire Delhi – Mumbai expressway has been divided into 4 sections with a total of 52 tenders / packages – see a list and their status here.
For more updates, check out the Expressways section or my Home Page!
– TMRG