24 construction firms have submitted bids to build the 17.728 km Agra Bypass (Northern) project which will link NH-19 (old NH-2) and Yamuna Expressway in Uttar Pradesh.
This 6 lane new greenfield highway will start north of Raipura Jat on km. 174.500 of NH-19 and terminate at Km. 141.000 of the Yamuna Expressway. Along the way, a new bridge over the Yamuna River will be built.
The project's justification by NHAI can be viewed here. Additional details with various documents can be viewed on the Forest Clearance's website here.
National Highways Authority of India (NHAI) invited tenders for its construction in October 2021 with a Rs. 483.07 crore estimate and 730 day (2 year) deadline. Technical bids were opened today.
Bidders:
Arcons Infrastructures and Constructions Pvt. Ltd.
Broj Gopal Construction Co. Pvt. Ltd.
CDS Infra Projects Ltd.
D P Jain and Company Infrastructure Pvt. Ltd.
Gannon Dunkerley and Co Ltd
GPT Infraprojects Ltd.
HG Infra Engineering Ltd.
Hillways Construction Company Pvt. Ltd.
ISC Projects Pvt. Ltd.
Jandu Construction India Pvt. Ltd.
M G Contractors Pvt Ltd.
Mundan Construction Company
PNC Infratech Ltd.
RAC Developers Pvt Ltd.
Raj Shyama Constructions Pvt. Ltd.
Raj Corporation Ltd.
Ravi Infrabuild Projects Pvt. Ltd.
R K Jain Infra Projects Pvt. Ltd.
Shree Girrajjee Infra Heights Private Ltd.
Shree Manglam Buildcon (I) Pvt. Ltd.
SKS Infra Projects Pvt. Ltd.
SRSC Infra Private Ltd.
Tomar Builders And Contractors Private Ltd.
Varindera Constructions Ltd.
Scope: Construction of Agra Bypass (Northern) connecting km. 174.500 of NH-19 (old NH-2) to km 141.000 of Yamuna Expressways in the district of Mathura in the state of Uttar Pradesh on EPC mode
Here's a grainy route map via the Forest Clearance's website. This new link will have trumpet interchanges on either end.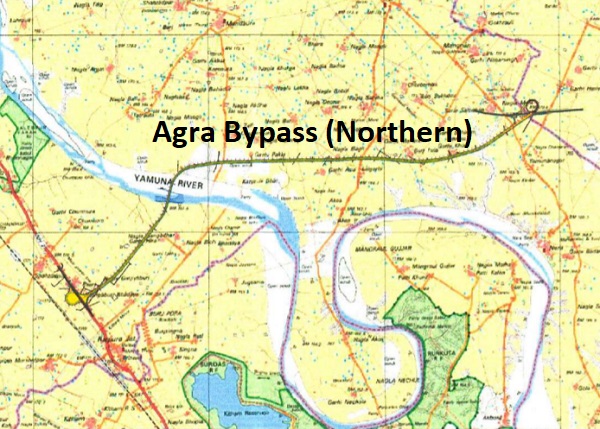 The bids have now been sent for technical bid evaluation which can take a couple months to complete. When that is done, the financial bids of the technically qualified bidders will be opened to reveal who's the lowest bidder and most likely contractor for its construction.
Besides this link, there's another 18 km Agra Bypass road project in the works to link NH-44 (old NH-3) to Fatehabad Road. Technical bids for that will be opened on January 27, so stay tuned for a list of its bidders.
Completion of both these road projects will finally complete Agra's Ring Road (view on Google Maps) with a roughly 102 km route around the city comprising of different piecemeal projects such as Agra Bypass (Southern), Agra Bypass (Northern) and Yamuna Expressway.
For more updates, check out the Expressway section or my Home Page! Sign up for free instant email notifications on new posts over here. Like this post? See how you can support the site over here.
– TMRG