6 construction firms have submitted bids to construct Package Spur-I of the roughly 650 km Delhi – Amritsar – Katra (DAK) Expressway after National Highway Authority of India (NHAI) opened technical bids today.
This 4-lane greenfield project starts at KMP Expressway north-west of Delhi, and will be expandable to 8 lanes with provision of service roads in the future. Phase 1 involves the construction of a 397.7 km greenfield expressway between Delhi – Ludhiana – Gurdaspur and a 99 km spur connecting Nakodar – Amritsar.
40.90 km Package Spur-I connects Nakodar interchange with Dhunda village (south of the historic Goindwal Sahib) with an approximately 700 meter cable-stayed bridge over Beas River connecting Kapurthala and Tarn Taran districts.
NHAI had invited bids for this package in June 2021 with a Rs. 1,527.97 crore estimate, 3 year construction deadline and 10 year maintenance period.
Bidders
Ceigall India Ltd.
GR Infraprojects Ltd.
Larsen & Toubro Ltd.
Ashoka Buildcon Ltd.
SP Singla Constructions Ltd.
Tata Projects Ltd.
NHAI's Brief Scope: Construction 4 lane Greenfield Amritsar connectivity of Amritsar with Delhi-Amritsar-Katra Exp. from Jun. with Kapurthala-Sultanpur Lodhi road (NH-703A) Isharwal village ch.24.000 to MDR Jun. at ch.40.900 Dhunda Village on EPC mode under BMP in Punjab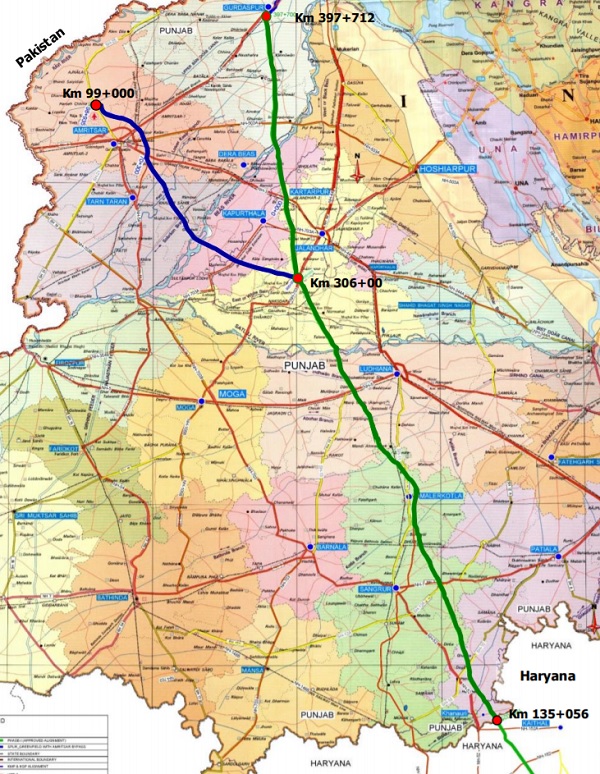 The bids have now been sent for technical bid evaluation which can take a couple months to complete. When that is done, the financial bids of the technically qualified bidders will be opened to reveal who's the lowest bidder and most likely contractor for its construction.
DAK Expressway project's greenfield section consists of 15 packages – 12 on the 397 km Delhi – Gurdaspur section and 3 on the 99 km Nakodar-Amritsar spur. 14 of those have been awarded and only Package Spur-1's award is pending – see a list of all packages and contractors here.
For more updates, check out the Expressway section or my Home Page! Sign up for free instant email notifications on new posts over here. Like this post? See how you can support the site over here.
– TMRG