Max Infra (India) Ltd. on Saturday emerged as the lowest bidder to construct package OD8 of the 464 km Raipur – Visakhapatnam Economic Corridor (NH-130CD & EC-15), also known as Raipur – Vizag Expressway.
This new six-lane highway will have a few sections that are access-controlled with a greenfield alignment connecting the states of Chhattisgarh, Odisha and Andhra Pradesh.
Package OD-8 is 22.533 km long and will connect Kandili – Tumbiguda within Odisha near the border with Andra Pradesh.
National Highways Authority of India (NHAI) invited tenders for its construction in August with a 2 year deadline and Rs. 1327.18 crore estimate. Technical bids were opened in December 2021 to reveal 9 bidders.
Financial Bid Values (lowest 5)
| | |
| --- | --- |
| Firm | Bid (Rs. Crore) |
| Max Infra | 1285.68 |
| KMV Projects | 1371.38 |
| GR Infra | 1467.47 |
| Megha Engineering | 1497.38 |
| HG Infra | 1540.04 |
OD-8's Scope: Development of Six Lane Kandili Tumbigura Section of NH130CD Road from km 342.500 to km 365.033 under Raipur Visakhapatnam Economic Corridor in the state of Odisha on Hybrid Annuity Mode Pkg-OD8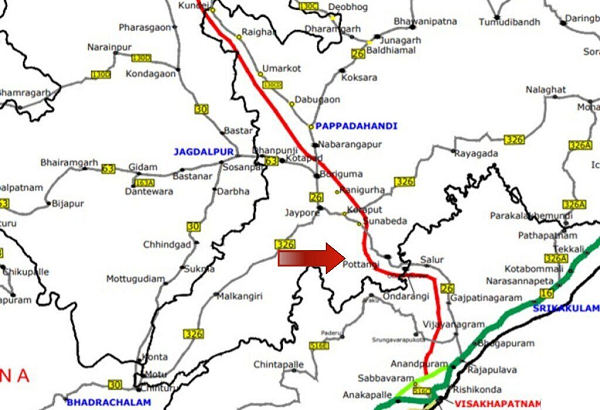 Max's bid of Rs. 1285.68 crore was well below NHAI's estimate of Rs. 1327.18 crore, so a contract should be awarded in the coming weeks. Details on the Raipur – Visakhapatnam Economic Corridor along with a list of all packages and their status can be viewed here.
Over the past month, I've created a bunch of new expressway pages for ongoing & upcoming projects, and linked them up on the site's menu bar. I've got a long backlog I'm working against, so there's more to be added, especially Surat – Chennai Expressway which essentially is a combination of economic corridors. If you've got any on your mind, leave a comment below.
Also check out the Airports section in the menu bar under 'Misc'. I've added a bunch of new and ongoing projects:
For more updates, check out the Expressway section or my Home Page! Sign up for free instant email notifications on new posts over here. Like this post? See how you can get early-access to updates and support the site over here.
– TMRG
Hat-tip: Chitwon