3 firms on Friday submitted bids for the Detailed Design Consultant (DDC) contract of the 32.385 km Kanpur Metro and 29.40 km Agra Metro Phase 1 projects' second corridors.
This is the first major step for starting the tendering process to construct both cities' new lines, which will primarily consist of elevated stations. I reckon UPMRC will likely spin their development off into a new phase titled Phase 1B or something akin.
8.6 km Kanpur Metro Line-2: Chandra Shekhar Azad University – Jaurali ; Depot at Agriculture University
15.40 km Agra Metro Line-2: Agra Cantt. – Kalindi Vihar ; Depot at Kalindi Vihar
The role of the DDC typically includes, but is not limited to, producing and proposing alternate designs of all civil, architectural, building services, electrical and mechanical works.
UPMRC invited bids for this consultancy service in November 2021 with an estimate of Rs. 35.57 crore and expects the consultant to stay onboard for at least 1460 days (4 years).
Lead Bidders (Note: they may be in a consortium with others)
AYESA Ingenieria y Arquitectura, S.A.U
STUP Consultants Pvt Ltd.
SYSTRA MVA Consulting (India) Pvt Ltd.
Package: KNPAGDDC-01
Brief Scope: Engagement of Detailed Design Consultant (DDC) for Civil, Architectural and E and M Works for (a) Corridor-2 of Kanpur Metro Rail Project, at Kanpur and (b) Corridor-2 of Agra Metro Rail Project, at Agra.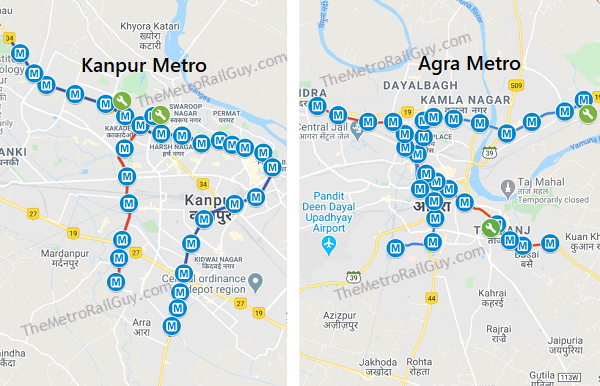 The bids have now been sent for technical evaluation which can take a couple months to complete. When that is done, the financial bids of the technically qualified bidders will be opened to reveal who's the lowest bidder and most likely consultant.
When awarded, the consultant will prepare designs and work with Technica Y Projectos, S.A. – Italferr S.P.A JV (General Consultant) and civil contractors to turn the designs into a reality.
Lucknow Metro's 11 km Line-2 has been a non-starter due to ridership concerns and the state government's choice to focus on other cities, so I'm inclined to believe it'll be a while before civil work starts on Agra & Kanpur metros' second lines.
For more updates, check out the Kanpur section, Agra section, or my Home Page! Sign up for free instant email notifications on new posts over here. Like this post? See how you can get early-access to updates and support the site over here.
– TMRG