In addition to Line-1's Package CS4, Gujarat Metro Rail Corporation (GMRC) on Friday also published the final civil tender notice for Surat Metro's 19.26 km Line-2 which will connect Bhesan – Saroli via 18 stations.
8.702 km Package CS6 of the 41.93 km Surat Metro Phase 1 will connect Majura Gate Interchange Station with Saroli Station with 7 elevated stations en route at Udhna Dawaja, Kamela Darwaja, Anjana Farm, Model Town, Magob, Bharat Cancer Hospital and Saroli.
Like other recent tender notices, GMRC hasn't provided an estimate nor completion period in the basic tender notice.
Tender Notification: GMRC/CONS/VDCT+STNS/PKG-CS6/PH-1/2022
Package: CS6
Estimate: Not Disclosed
Completion Period: Not Disclosed
Pre-bid Meeting: 14/03/2022 at 11:30:00
Bid Submission End Date: 16/04/2022 at 15:00:00
Technical Bid Opening Date: 16/04/2022 at 15:30:00
Brief Scope: Construction of 8.702 kms elevated viaduct and 7 nos. stations (Excl. E&M, Architectural Finishing and Roofing) from Majura Gate (Ch. 9090 m) to Saroli Dead End (Ch. 17791.851 m) under Corridor-2 in connection with Surat Metro Rail Project Phase – 1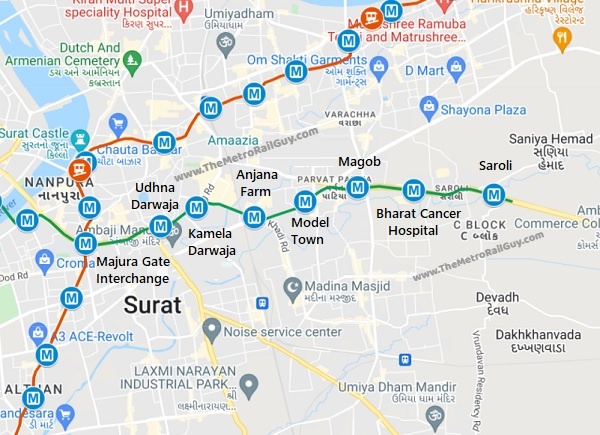 This civil package will be funded by KfW with whom the government of India signed a Euro 442.26 million loan in December 2021.
With this and other recent tender notices, the finalized route lengths for both lines and Phase 1 are now known. Line-1 (Sarthana – Dream City) with packages CS1, CS2, CS3 & CS4 has a length of 22.77 km – longer than the 21.61 figure originally envisioned in the Detailed Project Report (DPR). Similarly, Line-2 (Bhesan – Saroli) with packages CS5 & CS6 has a length of 19.26 km – longer than the 18.74 km figure.
This takes Phase 1's total length from 40.35 km to 41.93 km. Just 1 more civil tender notice is now pending for Line-2 Bhesan Depot's construction. A list of all Surat Metro Phase 1 packages and their contractors/status can be viewed here.
For more updates, check out the Surat section or my Home Page! Sign up for free instant email notifications on new posts over here. Like this post? See how you can get early-access to updates and support the site over here.
– TMRG