13 construction firms have submitted bid to construct 40.6 km Package 4 of the Solapur – Kurnool – Chennai Economic Corridor (NH-150C), which forms the southern section of what's known as Surat – Chennai Expressway.
This new 1271 km six-lane partially access-controlled highway by National Highways Authority of India (NHAI) will have a mix of greenfield and brownfield-upgraded sections with an alignment passing by Nasik, Ahmednagar, Solapur, Kalaburgi, Kurnool, Kadappa & Tirupati to link Gujarat, Maharashtra, Telangana and Tamil Nadu.
Karnataka section's Package 4 will connect Baswantpur and Singnodi on the border with Telangana. NHAI invited tenders for its construction by hybrid annuity model (HAM) in December 2021 with a 2.5 year deadline and Rs. 1169.22 crore estimate.
Bidders:
Ashoka Buildcon Ltd.
Bansal Construction Works Pvt. Ltd.
Dilip Buildcon Ltd.
GR Infraprojects Ltd.
HG Infra Engineering Ltd.
KNR Constructions Ltd.
Megha Engineering and Infrastructures Ltd.
Montecarlo Ltd.
NCC Ltd.
Oriental Structural Engineers Pvt. Ltd.
PNC Infratech Ltd.
Raj Path Infracon Pvt. Ltd.
Shankarnarayana Constructions Pvt. Ltd.
Package 4's Brief Scope: Development of 6 lane Access Controlled Greenfield Highway from Km 162.500 to Km 203.100 Baswantpur to Singnodi section of NH 150C (Pkg 4 of Akkalkot KNT or TS Border) on HAM under Bharatmala Pariyojna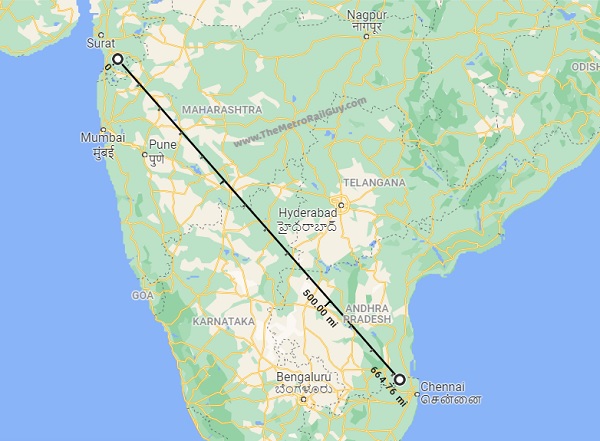 The bids have now been sent for technical bid evaluation which can take a couple months to complete. When that is done, the financial bids of the technically qualified bidders will be opened to reveal who's the lowest bidder and most likely contractor.
A tender notice for Package 1 is still pending for the Akkalkot, Maharashtra to MH/KA Border at Badadal section. Last month, NHAI received 32 bids from 17 firms for 136.5 km packages 2 & 3 connecting Badadal – Maradgi S. Andola – Baswantpur (see details here).
In case you missed it, I created 3 new information pages for this project with a list of all tenders and their status – check them out:
For more updates, check out the Expressway section or my Home Page! Sign up for free instant email notifications on new posts over here. Like this post? See how you can get early-access to updates and support the site over here.
– TMRG