Megha Engineering and Infrastructures Ltd. on Tuesday emerged as the lowest bidder to construct the 39.3 km Package 1 of the Solapur-Kurnool-Chennai Economic Corridor (NH-150C), which forms the southern section of what's known as Surat – Chennai Expressway.
This new 1271 km six-lane access-controlled highway by National Highways Authority of India (NHAI) will have a mix of greenfield and brownfield-upgraded sections with an alignment passing by Nasik, Ahmednagar, Solapur, Kalaburgi, Kurnool, Kadappa & Tirupati to link Gujarat, Maharashtra, Telangana and Tamil Nadu.
Package 1 within Telangana will connect Karnataka-Telangana border at Raichur Gadwal road (km 202.900) to Julekal village (km 242.200). Its Detailed Project Report (DPR) was prepared by SM Consultants.
NHAI invited tenders for its construction by hybrid annuity model (HAM) in October 2021 with a 2 year deadline and Rs. 756.26 crore estimate. Technical bids were opened in February to reveal 20 bidders.
Financial Bid Values (Lowest 5):
| | |
| --- | --- |
| Firm | Bid (Rs. crore) |
| Megha Engineering and Infrastructures | 799.50 |
| Bekem Infra Projects | 824.05 |
| KMV Projects | 833.39 |
| PNC Infratech | 882 |
| Rithwik Projects | 889.50 |
Brief Scope: Construction of 6-Lane Access Controlled Greenfield Highway section of NH-150C from KN/TS border (Start from Raichur Gadwal road) (D. Ch. km 202.900) to Julekal Village (D. Ch. km 242.200) ( length 39.300 km) on HAM under BMP in Telangana (PKG-I).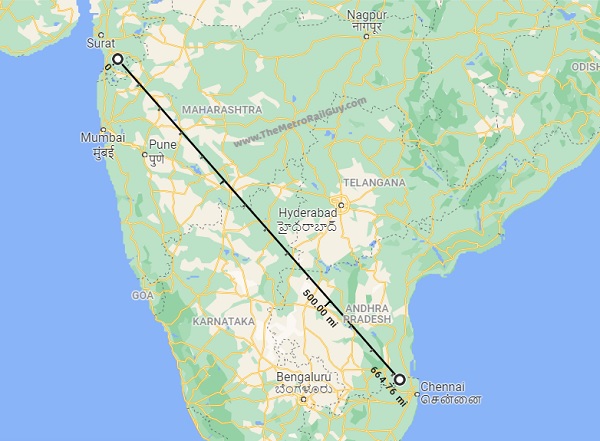 MEIL's bid of Rs. 799.50 crore was just 5.7% higher than NHAI's estimate of 756.26 crore which is within their permissible limit, so a contract should be awarded in the coming weeks.
I hear financial bids for Telangana's Package 2 (Julekal village to Kurnool) have also been opened. NHAI received 14 bids for it in February. If someone has its results, leave a comment below or shoot me a mail here.
A list of this economic corridor's packages and their status can be viewed here.
For more updates, check out the Expressway section or my Home Page! Sign up for free instant email notifications on new posts over here. Like this post? See how you can get early-access to updates and support the site over here.
– TMRG