May 14, 2022 Update: KCC Buildcon has been issued LOA with a contract value of Rs. 158,16,56,102.31
April 22 Original Post: KCC Buildcon Pvt Ltd. on Tuesday emerged as the lowest bidder to construct the 5.9 km C1 Priority Section of the 121.742 km Haryana Orbital Rail Corridor (HORC) project after Haryana Rail Infrastructure Development Corporation Ltd (HRIDC) opened financial bids.
The first section of this semi high-speed rail line project will connect Manesar Station with the existing Patli Station on the Indian Railways' network. It will run primarily at-grade with an elevated loop viaduct, over HORC's main-line, connecting to Patli Station.
HRIDC invited tenders for the Priority Section's construction in November 2021 with a 15 month completion period and Rs. 175.80 crore estimate. Technical bids were opened in January to reveal 8 bidders.
Financial Bid Values (Qualified Bidders):
| | |
| --- | --- |
| Firm | Bid (Rs. Crore) |
| KCC Buildcon | 158.16 |
| Dineshchandra R Agrawal Infracon | 166.79 |
| ISC Projects | 175.72 |
| JMC Projects (India) | 180.55 |
| M G Contractors | 231.60 |
Brief Scope: C-1: Priority Section – Construction of Earthwork, Bridges, Station Buildings, Retaining Walls and other miscellaneous Works in connection with laying of New BG Double Railway line of HORC Project from Km 49.7 to Km 55.6 and its connectivity (new BG single line) from proposed Manesar Station of HORC to existing Patli Railway Station of IR Network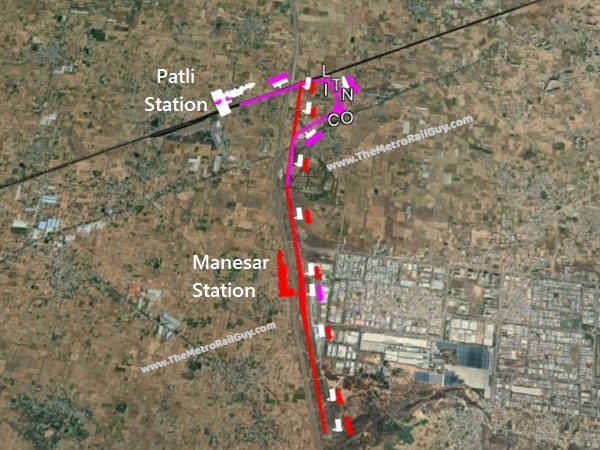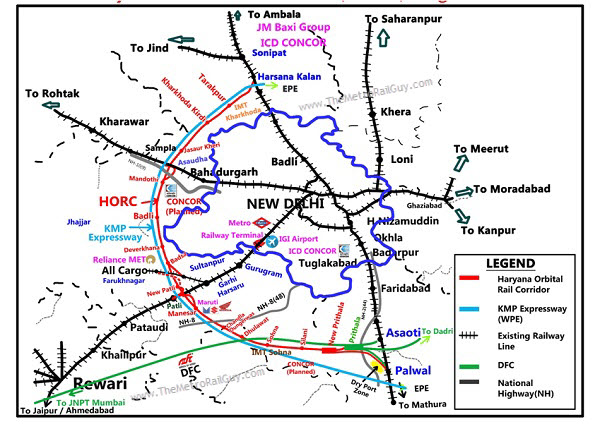 KCC's bid was 10.03% below HRIDC's estimate, so a contract should be awarded in the coming weeks without a long financial bid evaluation period.
Trains on this new rail corridor will run at a top speed of 160 kmph and eventually provide connectivity through 17 stations along the Kundli – Manesar – Palwal (KMP / WPE) Expressway – view project details.
Along the way, the interchange facilities will be provided with the Indian Railways' main radial routes (eg. Delhi – Rohtak, Delhi – Ambala), the Dedicated Freight Corridor (DFC) at Pirthala (near Palwal), major logistic hubs and the 164 km Delhi – SNB – Alwar RRTS Line at Panchgaon.
Tender notices are currently pending for the rest of the project's construction and systems work.
For more updates, check out the HORC section or my Home Page! Sign up for free instant email notifications on new posts over here. Like this post? See how you can get early-access to updates and support the site over here.
– TMRG