Altinok Consulting Engineering Inc. and RITES Ltd. have submitted bids to prepare a Detailed Project Report (DPR) for a new road tunnel between Dehradun and Tehri in Uttarakhand.
This is a retender for the project's DPR consultancy work and technical bids were opened on Thursday. Altinok was the only bidder in the first round, launched in November 2021, which got cancelled in March. NHAI shortly re-invited tenders with a 540 day completion deadline.
As shared earlier, the distance between Dehradun and Tehri is 35 kms as the crow flies. Per Google Maps, the road distance is 97 kms via National Highways NH-7 and NH-34 and comes with an estimated travel time of roughly 3 hours.
This new tunnel by National Highways Authority of India (NHAI) will pass through the Himalaya's Saklana Range. It is expected to be at least 20 kms long making it the longest tunnel project in India, if built, resulting in significant time savings.
NHAI's Brief Scope: Consultancy Services for preparation of DPR for development of Tunnel from Dehradun to Tehri in State of Uttarakhand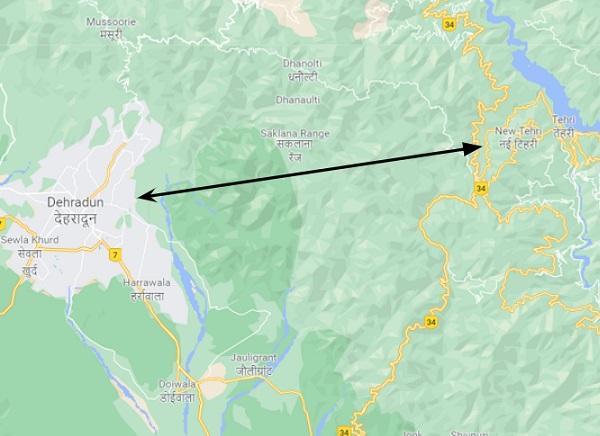 Turkey's Altinok has several Indian projects under its belt, including the under construction Rishikesh – Karnaprayag Railway Line where they're the Design Consultant for tunnel packages 4 and 9.
If NHAI is now satisfied with an additional bidder joining the fray, then the bids will be sent for technical evaluation which can take a couple months to complete. When that is done, the financial bids of the technically qualified bidders will be opened to reveal who's the lowest bidder and most likely consultant.
We'll have to wait for the DPR to be finalized, but I reckon it would most likely recommend a drill-and-blast construction method and not a tunnel boring machine-based method.
For more updates, check out my Home Page! Sign up for free instant email notifications on new posts over here. Like this post? See how you can get early-access to updates and support the site over here.
– TMRG