9 construction firms today submitted bids to construct the 18.47 km Package 2 of the 210 km Delhi – Saharanpur – Dehradun Expressway's Phase 3.
This 6 lane mostly-greenfield expressway is being developed in 4 phases. Its 40 km Phase 3 will see NH-307 getting upgraded to a 6 lane access-controlled highway between Saharanpur Bypass in Uttar Pradesh and Ganeshpur in Uttarakhand.
This package consists of 2 discontinuous stretches (see map below) and its Detailed Project Report (DPR) was prepared by Transys Consulting Pvt. Ltd.
National Highways Authority of India (NHAI) invited tenders for its construction contract in January 2022 with a Rs. 495.85 crore estimate and 10 year maintenance period.
Bidders
Bharat Constructions (India) Pvt. Ltd.
Ceigall India Ltd.
Gaaneshkartikey Construction Pvt. Ltd.
Gawar Construction Limited
Krishna Constellation Pvt. Ltd.
M G Contractors Pvt. Ltd
OJSC Euro Asian Construction Corporation
Som Projects Pvt. Ltd.
Varindera Constructions Ltd.
NHAI's Brief Scope: Six laning along with full access control provisions in stretches from Saharanpur bypass to Ganeshpur section of Delhi Dehradun EC in Uttar Pradesh and Uttarkhand on EPC under BMP Phase-1 (Package-2)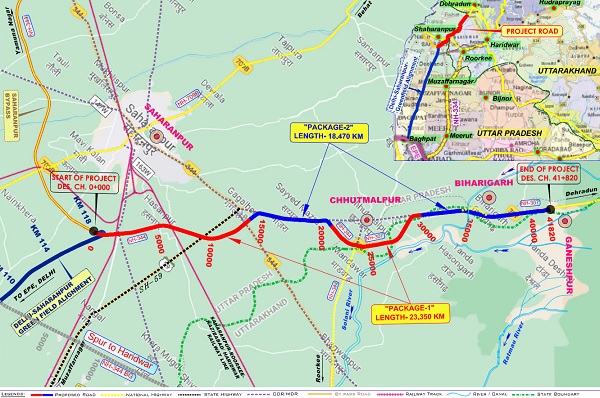 The bids have now been sent for technical bid evaluation which can take a couple months to complete. When that is done, the financial bids of the technically qualified bidders will be opened to reveal who's the lowest bidder and most likely contractor for this package.
Details on this expressway along with a list of all packages and their status can be viewed here.
For more updates, check out the Expressway section or my Home Page! Sign up for free instant email notifications on new posts over here. Like this post? See how you can get early-access to updates and support the site over here.
– TMRG