Ceigall India Ltd. on Tuesday emerged as the lowest bidder to construct and operate the 22.85 km Jalbehra – Shahbad extension (NH 152G) of the 227 km Trans Haryana Expressway (NH 152D).
This small 4 lane northern extension by National Highways Authority of India (NHAI) will effectively connect the 313 km Ambala – Kotputli Economic Corridor with NH-44 (old NH-1) highway to increase its utility.
NHAI invited tenders for its development on the Hybrid Annuity Model (HAM) in December 2021 with a 730 day (2 year) deadline and Rs. 557.20 crore estimate. Technical bids were opened on April 13 to reveal 3 bidders.
Financial Bid Values
| | |
| --- | --- |
| Firm | Bid (Rs. Crore) |
| Ceigall India Ltd. | 648 |
| GR Infraprojects Ltd. | 777 |
| Megha Engineering and Infrastructures Ltd. | 789 |
Brief Scope: Construction of 4 Lane Greenfield Jalbehra Shahbad sec of NH 152G from Km 0.000 to Km 22.850 (Part of Shahbad Thol Feeder Route) in Haryana on HAM under Bharatmala Pariyojana Phase I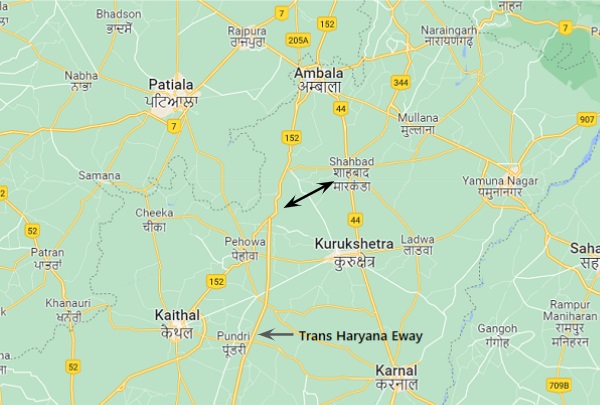 The project's exact alignment can be viewed here (option-2) on the Government's EC site (hat-tip to follower Kanishka).
Ceigall's bid was 16.9% higher than NHAI's estimate, so it remains to be seen if this will be awarded or not after negotiations.
A list of this project's packages and their contractors can be viewed here.
For more updates, check out the Expressway section or my Home Page! Sign up for free instant email notifications on new posts over here. Like this post? See how you can get early-access to updates and support the site over here.
– TMRG