Gulermak – Kalpataru Power Transmission Ltd. JV today emerged as the preferred bidder for the 750 V DC 3rd Rail Electrification contract of Bhopal Metro's Phase 1 project consisting of 2 lines and 28 stations.
The scope of this systems contract (Package BH08) includes design & installation work throughout all elevated & underground stations, including Subhash Nagar Depot for which KEC – SAM JV emerged as the lowest bidder in February.
Madhya Pradesh Metro Rail Corporation Limited (MPMRCL) invited tenders for this contract in November 2021 with a Rs. 516 crore estimate and 1278 day (3.5 year) deadline. Technical bids were opened in March to reveal 7 bidders.
Note: Although Sterling and Wilson Ltd. (SWPL) is the lowest bidder, Kalpataru submitted a lower transmission loss (TRFO) bid resulting in a total bid valued at Rs. 615.27 crore. Sterling and Wilson's total bid came out marginally higher at Rs. 618.34 crore.
Financial Bid Values
| | |
| --- | --- |
| Firm | Bid (Rs. Crore) |
| Sterling and Wilson Ltd. (SWPL) | 584.01 |
| Kalpataru Power Transmission Ltd. | 585.65 |
| Siemens Ltd. | 589.20 |
| Linxon India Ltd. | 597.41 |
| KEC International Ltd. | 638.96 |
| Larsen & Toubro Ltd. (L&T) | 664.69 |
| Alstom Transport India Ltd. | 762.90 |
MPMRCL's Scope: Engineering, Supply, Erection, Testing and Commissioning of Power Supply Receiving Sub Station, Traction Sub Station, Auxiliary Sub Station , 750 V DC 3rd Rail and SCADA System for Bhopal Metro Rail Project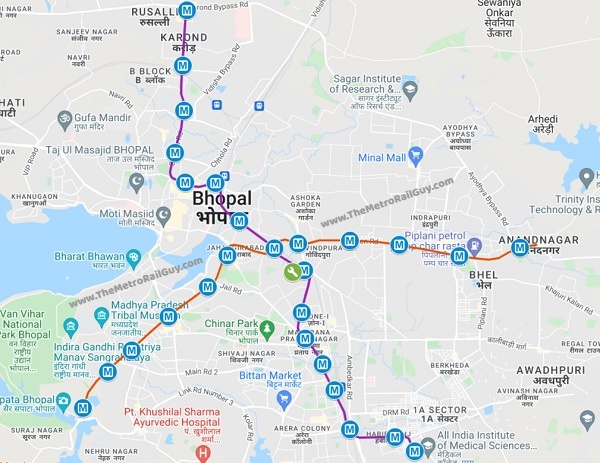 Gulermak – Kalpataru's bid at Rs. 615.27 crore was significantly higher than MPMRCL's Rs. 516 crore estimate, so I see this heading to the negotiation table for contract finalization.
Back in March, MPMRCL received 7 bids from the same 7 firms for Indore Metro's electrification package IN-09. Kalpataru Power Transmission was eventually declared as the lowest bidder in May.
A list of all Bhopal Metro's civil packages and their status can be viewed here.
For more updates, check out the Bhopal section or my Home Page! Sign up for free instant email notifications on new posts over here. Like this post? See how you can get early-access to updates and support the site over here.
– TMRG