Montecarlo Ltd. (MCL) in June-end was declared as the lowest bidder to construct the 37.386 km Package 3 of the 121.786 km Shamli – Ambala Expressway project in Uttar Pradesh and Haryana.
This 6 lane access-controlled highway by National Highways Authority of India (NHAI) will connect Gogwan Jalalpur village on the under construction 210 km Delhi – Dehradun Expressway with Sadopur village north of Ambala.
The project forms a significant segment of the upcoming 450 km Ludhiana – Bareilly Economic Corridor. Its Package 3 in Ambala District will connect Adhoya Musalmana (Chainage 84.400) to Sadopur (Chainage 121.786).
NHAI invited tenders for its civil contract under the Bharatmala Pariyojana program in January 2022 with a Rs. 770.30 crore estimate and 730 days (2 year) deadline. Technical bids were opened in early June to reveal 5 bidders.
Financial Bid Values
| | |
| --- | --- |
| Firm | Bid (Rs. Crore) |
| Montecarlo Ltd. | 729 |
| APCO Infratech Pvt. Ltd. | 750 |
| Ravi Infrabuild Projects Pvt. Ltd. | 770 |
| M G Contractors Pvt. Ltd. | 886 |
| G R Infraprojects Ltd. | 957 |
NHAI's Brief Scope: Development of 6 Lane AC Highway from Adhoya Musalmana Ambala dist to Sadopur Ambala dist from Ch. 84.400 to 121.786 of Shamli Ambala sec of Bareilly Ludhiana EC on EPC under BMP Ph-1 in Haryana Pkg3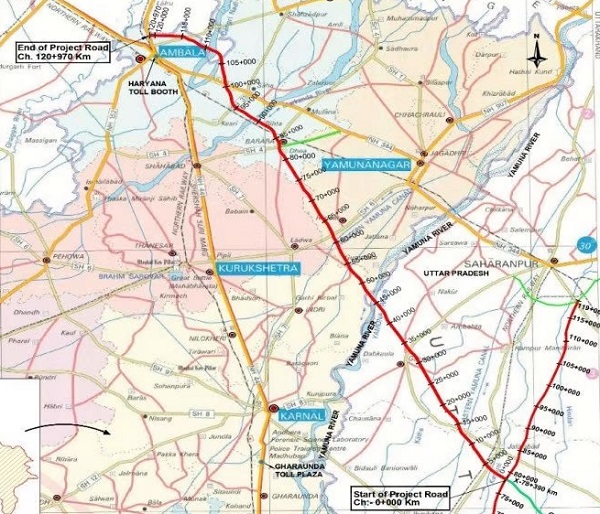 MCL's bid of Rs. 729 crore was well below NHAI's estimate of Rs. 770.30 crore so a contract should be awarded in the coming weeks, if not already.
Technical bids for packages 1 & 2 were opened last week to reveal 14 bidders for their construction contracts. Details on this expressway along with a list of all packages and their status can be viewed here.
For more updates, check out the Expressway section or my Home Page! Sign up for free instant email notifications on new posts over here. Like this post? See how you can get early-access to updates and support the site over here.
– TMRG