APCO Infratech on Friday was declared as the lowest bidder to construct 28.92 km Package 17 of the roughly 650 km Delhi – Amritsar – Katra (DAK) Expressway after National Highway Authority of India (NHAI) opened financial bids.
This 4 lane (expandable to 8 lane) greenfield project's Phase 1 consists of 12 packages for the 397.71 km Delhi – Gurdaspur section and 3 packages for the 99 km Nakodar – Amritsar spur.
Package 17 in Jammu & Kashmir is part of Phase 2 connecting Gurdaspur – Pathankot – Jammu – Katra. It consists of 2 disjointed parts – a 13.3 km brownfield section of NH-44 which will be upgraded between Kunjwani and Sidhra and a 15.62 km greenfield section between Domel and Katra.
Its Detailed Project Report (DPR) was prepared by Feedback Infra. NHAI invited bids for its construction in January 2022 under the Hybrid Annuity Model (HAM) model with a Rs. 1557.51 crore estimate and 2 year deadline. Technical bids were opened in June to reveal 8 bidders.
Financial Bid Values (Lowest 5)
| | |
| --- | --- |
| Firm | Bid (Rs. Crore) |
| APCO Infratech Pvt Ltd. | 1547.91 |
| Vishwa Samudra Engineering Private Ltd. | 1835.55 |
| Dineshchandra R Agrawal Infracon Pvt. Ltd. | 1867.20 |
| Montecarlo Ltd. | 1899.00 |
| Gawar Construction Ltd. | 1927.00 |
Brief Scope: Development of 4-6-lane Access Control Exp. from Design Chainage Km515.000-Km528.300 (Kunjwani to Sidhra Section of NH-44) and from Design Chainage Km550.900-Km566.520 (Domel to Katra Section) on HAM under BMP in the UT of JK.(Phase-II-PKG-XVII)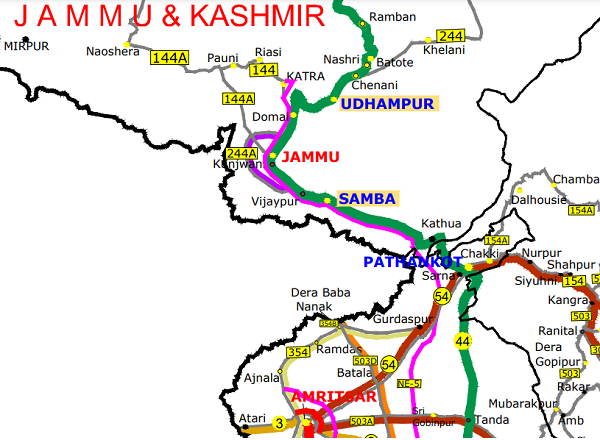 APCO's bid was 0.62% lower than NHAI's estimate, so a contract should be awarded in the coming weeks.
A tender notice for Package 13's construction near Gurdaspur is still pending. A list of this expressway's 17 packages and their contractors / status can be viewed here.
For more updates, check out the Expressway section or my Home Page! Sign up for free instant email notifications on new posts over here. Like this post? See how you can get early-access to updates and support the site over here.
– TMRG