NCC Ltd. earlier this month started pouring concrete to cast the first set of 27.90m U-girders for Patna Metro's 14.05 km Line-2 connecting Patna Junction Railway Station – New ISBT.
NCC's casting yard to support construction on Phase 1 project's 6.107 km Malahi Pakri – New ISBT (PC01) section is located along NH-31 in Khaspur (view on Google Maps). It consists of two 146m long casting beds from where 10 U-girders weighing 165 tons each can be cast.
Construction work on Patna Metro – India's 21st system to enter the construction stage – started with piling works in December 2020. The 1st pier cap was cast in April 2022.
NCC was awarded Package PC-01's Rs 552.93 crore contract by the Delhi Metro Rail Corporation (DMRC) in September 2020 with a tight 30 month deadline.
Their scope includes building this 6.107 km section's viaduct and 5 elevated stations at Malahi Pakri, Khemni Chak, Bhoothnath, Zero Mile and New ISBT. It also includes a viaduct leading to the New ISBT Depot, as well as a small rake-interchange viaduct at Khemni Chak connecting to the 16.85 km Line-1.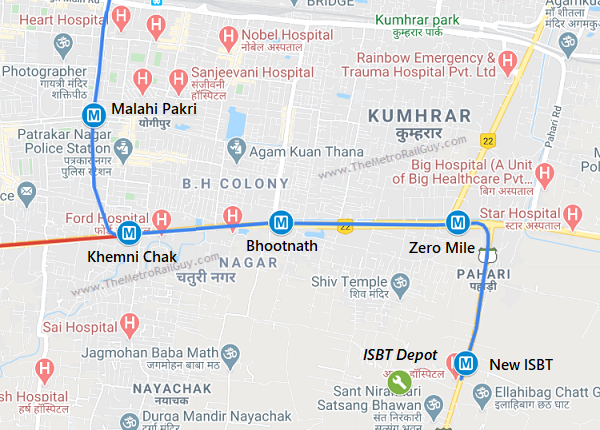 Images via Chandan Parui and Pardum Singh:
With a 30 month deadline, this section of Phase 1 is running terribly behind schedule. For comparison, construction on Agra Metro's Phase 1 commenced at the same time in December 2020 and they're on track for starting trial runs in 2023 – see viaduct and depot images.
For more updates, check out the Patna section or my Home Page! Sign up for free instant email notifications on new posts over here. Like this post? Get early-access to updates and support the site over here.
– TMRG