India's National High Speed Rail Corporation Ltd. (NHSRCL) on Tuesday invited bids to construct the 135.45 km long Package C-3 (Shilphata – Zaroli) of the 508.17 km Mumbai – Ahmedabad High Speed Rail (MAHSR Bullet Train) project.
Elevated Package C3 of the main-line between chainage Km 21.150 and Km 156.600 is the longest of 3 civil packages within Maharashtra state and final package of the entire project. Its estimate is unknown at this time and I'll update this section whenever I become aware.
This package includes 3 elevated stations at Thane, Virar and Boisar. The construction of Thane Depot will be carried out via a separate civil construction contract.
IFB Number: Package No. MAHSR-C-3
Brief Scope: Design and Construction of Civil and Building Works including Testing and Commissioning on Design Build Lump Sum Price Basis for Double Line High Speed Railway involving Viaducts & Bridges (excluding fabrication and transportation of steel truss girder components), Maintenance Depot, Tunnels, Earth Structures and Stations (Thane, Virar and Boisar), between Shilphata in the State of Maharashtra and Zaroli at Maharashtra-Gujarat border from MAHSR Km 21.150 to MAHSR Km 156.600 [excluding Thane Depot] for the Project for Construction of Mumbai-Ahmedabad High Speed Rail
Completion Period: 1704 days (4.66 years)
Pre-bid Meeting: 20 December 2022 at 11:00 AM
Date & Time of Submission of Tender: 14 March 2023 at 3:00 PM
Date & Time of Opening of Tender: 15 March 2023 at 3:00 PM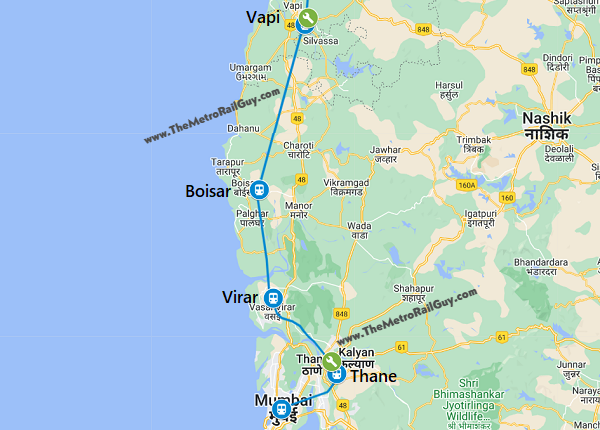 This tender notice took so long to come out due to an indifferent prior state government which took no interest in speeding up land acquisition that now stands at at least 92% of which NHSRCL has at least 71% in its possession.
With this development, all 8 civil tender notices are out of which 5 are under construction in Gujarat. A list of all bullet train civil and system packages and their status can be viewed here.
For more updates, check out the High Speed Rail section or my Home Page! Sign up for free instant email notifications on new posts over here. Like this post? Get early-access to updates and support the site over here.
– TMRG