Besides bids for Nagpur-Goa Expressway, Maharashtra State Road Development Corporation (MSRDC) on Monday also received 3 bids for appointing a consultant to prepare a Detailed Project Report (DPR) for the 180 km Pune – Nashik Industrial Expressway.
This 6 lane greenfield access-controlled expressway will connect MSRDC's proposed Pune Ring Road project (near Chimbali) and Shinde (on NH-60). Just south of Nashik, it will be connected to the partly operational 701 km Samruddhi Mahamarg (Mumbai – Nagpur Expressway).
The scope of the contract also includes preparing a feasibility study and providing MSRDC with assistance in land acquisition.
MSRDC had invited tenders for this contract in October 2022 with a 365 day (1 year) completion deadline and an unknown estimate.
Bidders
L N Malviya Infra Projects Pvt. Ltd.
Monarch Surveyors and Engg Consultants Pvt. Ltd.
SA Infrastructure Consultants Pvt. Ltd.
Brief Scope: Appointment of Consultant for preparation of Feasibility Study Report Detailed Project Report and assistance in Land acquisition up to award stage for Proposed Pune Nashik Industrial Expressway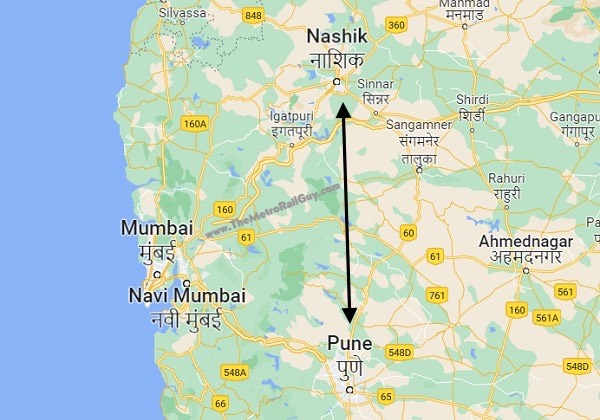 The bids have now been sent for technical bid evaluation which can take a couple months to complete. When that is done, the financial bids of the technically qualified bidders will be opened to reveal who's the lowest bidder and most likely consultant.
This new expressway will pass through 3 districts – Pune, Nagar & Nashik and is expected to reduce travel time between Nashik and Pune to 2 hours from the current 4-5 hour journey. Its alignment is expected to be partly shared and closely follow that of the 234 km Pune – Nashik Semi High-Speed Rail corridor.
Back in December, I setup basic information page for this project and a couple others in Maharashtra where I'll be tracking all contracts / tenders. These can all be accessed via the menu bar (Expressway > Maharashtra).
For more updates, check out the Expressway section or my Home Page! Sign up for free instant email notifications on new posts over here. Like this post? Get early-access to updates and support the site over here.
– TMRG