April 7, 2023 Update: HRIDC has issued LOA to PNC for Package C-23's civil construction
February 28, 2023 Original Post: PNC Infratech was today declared as the lowest bidder to construct 25.92 km Package C-23 of the 121.7 km Haryana Orbital Rail Corridor (HORC) project.
This section of Haryana's first semi high-speed rail line will connect Dhulawat (south of Sohna) with New Patli Station on an at-grade alignment. Besides minor bridges and station civil work on the main-line, the scope also includes construction of rail links from New Patli Station to the Indian Railways' existing Patli and Sultanpur stations.
Haryana Rail Infrastructure Development Corporation Ltd (HRIDC) had invited tenders for its civil construction work in November 2022 with a 910 day (2.5 year) completion deadline and undisclosed estimate. Technical bids were opened in January to reveal 7 bidders participated.
Financial Bid Values
| | |
| --- | --- |
| Firm | Bid (Rs. Crore) |
| PNC Infratech Ltd. | 771.46 |
| GR Infraprojects (GRIL) | 797.35 |
| Gawar Construction | 798.99 |
| Rail Vikas Nigam Ltd. (RVNL) | 899.82 |
| Larsen & Toubro (L&T) | 908.12 |
| IRCON International | 1007.41 |
| Afcons Infrastructure | Disqualified |
Brief Scope of C-23: Design and Construction of Civil Works (Earthwork, Bridges, Station Buildings, Retaining Walls and other miscellaneous Works) from km 29.68 to km 49.70 & from km 55.60 to km 61.50 and its connectivities to IR network from New Patli to Patli station & New Patli to Sultanpur station including modifications/civil works at Sultanpur Station in connection with laying of New BG Double Railway line of HORC project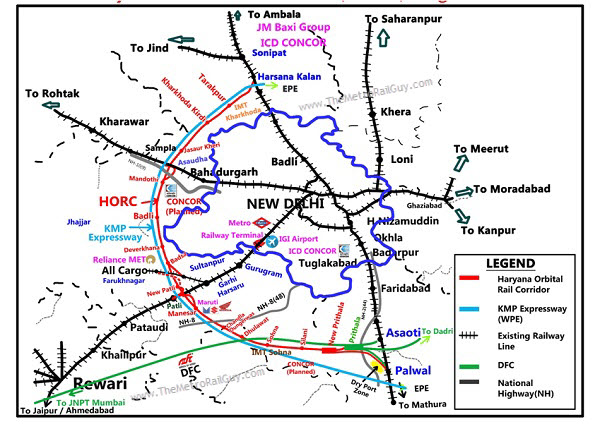 I'm surprised heavy-weight Afcons got disqualified. Strange. Anyhow, HRIDC's estimate remains unknown to me, so I can't share an assessment on the chances of a contract getting awarded. We'll have to wait and see how this plays out.
HRIDC has so far awarded only 1 major civil contract, and that was to KCC Buildcon in May 2022 to construct the line's 5.9 km C1 Priority Section (Manesar – Patli Station). Earlier this month, they received 6 bids for Package C4 which includes constructing twin tunnels near Sohna using NATM which to me is the most exciting section of the line.
A list of all HORC packages (service, civil & systems) can be viewed here.
For more updates, check out the HORC section or my Home Page! Sign up for free instant email notifications on new posts over here. Like this post? Get early-access to updates and support the site over here.
– TMRG