11 firms have submitted a total of 25 bids for the civil construction work of 610.417 km Varanasi – Ranchi – Kolkata Expressway's packages 11, 12 and 13 in Jharkhand after National Highways Authority of India (NHAI) opened technical bids today.
This 6 lane greenfield expressway will be built under Bharatmala Pariyojna (BMP) program at an estimated cost of Rs. 28,500 crore.
Its alignment will run parallel to National Highway NH-19 (old NH-2) and link Varanasi Ring Road in Uttar Pradesh's Barhuli village to NH-16 near Uluberia in West Bengal's Howrah District via Bihar and Jharkhand.
NHAI had invited tenders (bids) for these 3 packages' civil construction contracts under Hybrid Annuity Mode (HAM) in January 2023 with 2 year deadlines.
Bidders
APCO Infratech Pvt Ltd. – P11 & P12 only
Barbrik Project Ltd. – P12 only
CDS Infra Projects Ltd. – P11 & P12 only
Ceigall India Ltd.
Dilip Buildcon Ltd. – P13 only
Dineshchandra R Agrawal Infracon Pvt. Ltd. – P12 & P13 only
G R Infraprojects Ltd.
HG Infra Engineering Ltd.
IRB Infrastructure Developers Ltd.
KCC Buildcon Private Ltd. – P12 & P13 only
PNC Infratech Ltd.
Package Scope and Chainage
Package 11 (Jharkhand): Donoreshan village to junction with NH20 in Bongabar village (KM. 288.600 to KM. 325.500)
Package 12 (Jharkhand): Jn with NH20 in Bongabar village to Jn with NH320 in Lepo village (KM. 325.500 to KM. 358.500
Package 13 (Jharkhand): Jn with NH320 in Lepo village to Kamlapur village (JH/WB border) (KM. 358.500 to KM. 387.200)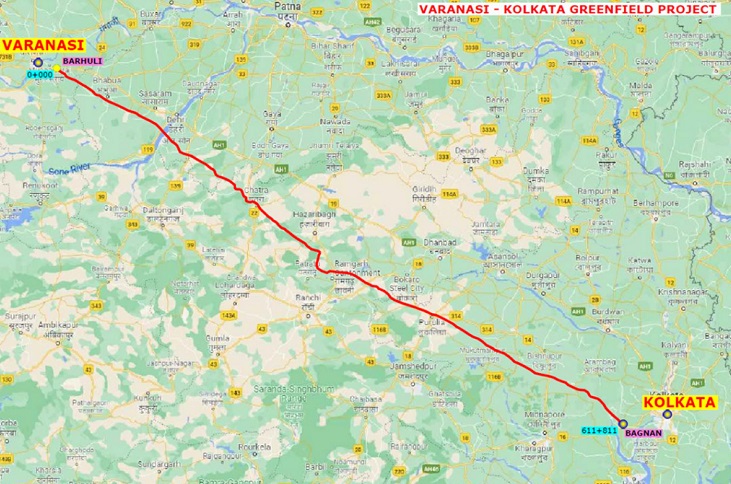 The bids have now been sent for technical bid evaluation which can take about a week or so be completed as witnessed in prior packages. When that is done, the financial bids of the technically qualified bidders will be opened to reveal who's the lowest bidder and most likely contractor for each package.
With this development, technical bid evaluation is now underway for 7 packages (6, 8, 9, 10, 11, 12 & 13), while financial bids for 4 packages (1, 2, 3, 7) have been opened to reveal their likely contractors (NKC Projects, PNC Infratech & GR Infraprojects).
As shared multiple times last week, tender notices are still pending for the West Bengal section where land acquisition has typically been slow and painful. A list of Varanasi – Kolkata Expressway's packages, their scope and contractor status can be viewed here.
For more updates, check out the Expressway section or my Home Page! Sign up for free instant email notifications on new posts over here. Like this post? See how you can support the site over here.
– TMRG