13 civil engineering firms have submitted a total of 24 bids to construct 19.88 km Chennai Port – Maduravoyal Expressway after National Highways Authority of India (NHAI) opened technical bids today.
This 4 lane project involves construction of a double-decker access-controlled elevated highway with an alignment along Cooum River under Bharatmala Pariyojana. Its foundation stone was laid by Prime Minister Narendra Modi in May 2022 with an estimated cost of Rs 5,855 crore.
Per Nitin Gadkari's recent tweet, "completion of this project is expected to alleviate traffic congestion in Chennai by segregating local traffic movement onto one tier of the Elevated highway. Additionally, it will double the handling capacity of the port, reduce waiting times at the port, and decrease travel time for vehicles bound for the port by an hour."
NHAI had invited tenders for its construction through 4 EPC packages in July 2022 with a 910 day construction deadline. Afcons and J Kumar are the only two firms that have bid for all 4 packages.
Bidders
Afcons Infrastructure Ltd. – P1, P2, P3, P4
Bridge and Roof Co India Ltd – P3 only
Dineshchandra R Agrawal Infracon Pvt. Ltd. – P1, P2, P4
Eaglecon Heavy Works – P4 only
G R Infraprojects Ltd. – P2, P3
J. Kumar Infraprojects Ltd. – P1, P2, P3, P4
Kalpataru Power Transmission Ltd. – P4 only
NCC Ltd. – P3 only
P&C Projects Pvt. Ltd. – P3 only
PST Engineering Construction – P4 only
Ramalingam Construction Company Pvt. Ltd. – P2 only
Tata Projects Ltd. – P1, P3
Transrail Lighting Ltd. – P1, P2
Package Length, Scope & Estimate
Package 1 (4.262 km) connecting km 0.342 to km 4.604 – Rs. 9,87,04,00,000
Package 2 (5.096 km) connecting km 4.604 to km 9.700 – Rs. 11,79,04,00,000
Package 3 (4.485 km) connecting km 9.700 to km 14.185 – Rs. 9,46,37,00,000
Package 4 (6.038 km) connecting km 14.185 to km 20.223 – Rs. 8,23,09,00,000
Here are a few renders prepared by L&T Infra Engineering shared by Nitin Gadkari: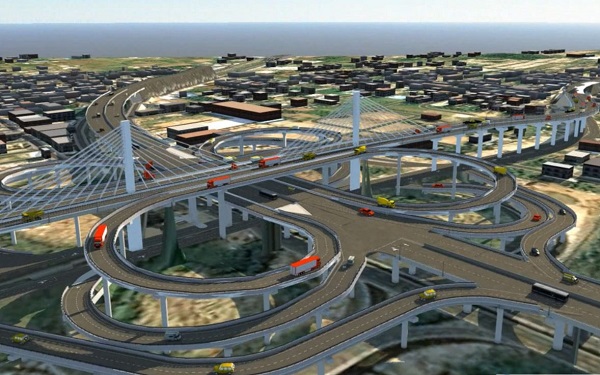 The bids have now been sent for technical evaluation which will take about a month to complete. When that is done, the financial bids of the technically qualified bidders will be opened to reveal who's the lowest bidder and most likely contractor for each package.
Maduravoyal is the eastern terminal of Bangalore – Chennai Expressway (BCE) project's 22.6 km Phase 4 for which a tender notice is currently pending. So this project, although totally separate, can essentially be considered as an informal "Phase 5" taking BCE deeper into the core of Chennai.
The project's information page can be viewed here: Chennai Port – Maduravoyal Expressway – Information & Status
For more updates, check out the Expressway section or my Home Page! Sign up for free instant email notifications on new posts over here. Like this post? Get early-access to updates and support the site over here.
– TMRG