Afcons Infrastructure today emerged as the only bidder for a 1.5 km pedestrian tunnel connecting Bihar & Patna museums in Patna after Delhi Metro Rail Corporation (DMRC) opened technical bids.
This unique project (Package PC-08) involves construction of a subway connecting both museums, between Bailey Road and Chajju Bagh, at a depth of 16.5 meters by a 8 meter diameter tunnel boring machine (TBM). To give you an idea of its size, 82 km Delhi-Meerut RAPIDX tunnels are being built using 7.51m diameter TBMs – see images here.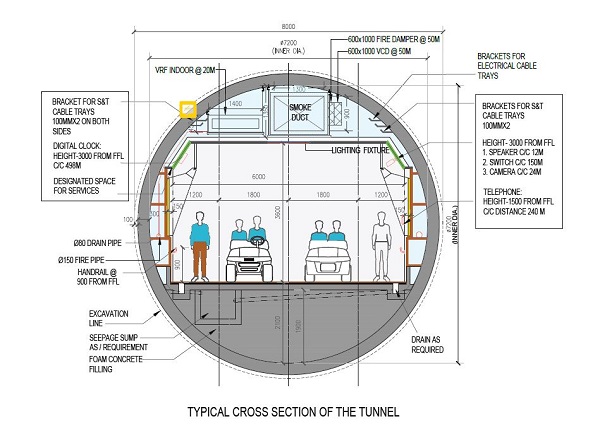 The project was approved in May 2022 with an estimated cost of Rs. 373 crore. In January 2023, a Memorandum of Understanding (MOU) was signed for its development by the Government of Bihar's Urban Development and Housing Department (UDHD) and Delhi Metro Rail Corporation (DMRC).
DMRC then in February 2023 invited bids for its construction work with a Rs. 296.41 crore estimate and 900 day (2.46 year) completion deadline.
DMRC's Brief Scope: Design and Construction of Single Tunnel (SUBWAY) between Bihar and Patna Museum by Shield TBM, Fire Escapes, Ancillary building, Entry/Exits building including Architectural Finishing, Water Supply, Sanitary Installation and Drainage works at Patna.
The air-conditioned tunnel will serve as an art gallery and be equipped with battery-operated golf carts. The entry/exit structures on either side will include a security checkpoint, goods lift (service elevator) and restrooms.
Here are a few renderings shared by DMRC in the past:
Whether DMRC and Bihar's Government are satisfied or not with receiving just 1 bid remains to be seen. If they aren't, then this will head to a retender. If they are, then Afcons' technical bid will be evaluated for the next steps in the tendering process.
Twin tunnels of Patna Metro Phase 1 project's 16.86 km Line-1 (Danapur Cantonment – Khemni Chak) will pass underneath this tunnel on Bailey Road with a vertical clearance of 6.5m. There are plans to integrate the museum's ticketing with the metro system's.
For more updates, check out the Tunnels section, Patna Metro section or my Home Page! Sign up for free instant email notifications on new posts over here. Like this post? Get early-access to updates and support the site over here.
– TMRG