Three construction firms have applied to construct a new terminal building at Shirdi International Airport in Maharashtra after Maharashtra Airport Development Company (MADC) opened qualification applications today.
Shirdi Airport's 55,000 sqm new passenger terminal and supporting infrastructure in the future will be able to handle 1200 passengers per hour – four times the current number. It is currently the 4th busiest airport in Maharashtra after Mumbai (BOM), Pune (PNQ) and Nagpur (NAG).
MADC invited RFQ applications for the terminal's civil construction work in March 2023 with a Rs. 527 crore estimate and 2 year completion deadline. From what I hear, 32 firms had participated in the pre-bid meeting.
Bidders
Bridge and Roof Company Ltd. (B&R)
IRCON International Ltd.
Megha Engineering and Infrastructures Ltd. (MEIL)
MADC's Brief Scope: Construction of New Integrated Terminal Building and Associated Infrastructure at Shirdi International Airport, Kopargaon, Kakadi, Maharashtra on EPC Mode.
KITCO was awarded the project's Engineering Consultant contract for planning, design and PMC works in 2019. Here are a few renders posted by Deepak Kapoor, MD of MADC on Twitter: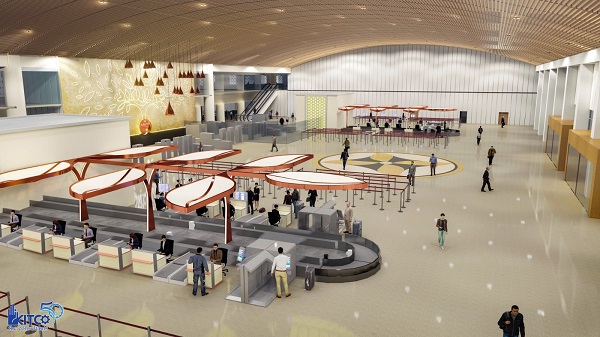 All 3 RFQ applications will now be evaluated by MADC which can take a couple months to complete. When that is done, the qualified bidders will be invited to submit bids.
Another design of Shirdi Airport's new terminal, prepared by Creative Group Architects, which was not selected can be viewed here.
For more updates, check out the Airports section or my Home Page! Sign up for free instant email notifications on new posts over here. Like this post? Get early-access to updates and support the site over here.
– TMRG