Shanghai Tunnel Engineering Co. Ltd. (STEC) last week recorded the 1st cross-passage breakthrough for the 82.15 km Delhi – Meerut RAPIDX (RRTS) project's Package 4 connecting New Ashok Nagar Ramp – Anand Vihar – Sahibabad Ramp.
Cross-passages are reinforced concrete structures that provide passengers with an emergency escape route to the parallel tunnel and help with maintenance work. They're found at regular intervals of every 250-400 meters depending on the length of the tunnels between adjacent stations and soil characteristics.
Work for building these passages is usually taken up only after the tunnels are built, to ease working conditions and increase efficiency, but there have been times when work has commenced while tunneling is still in progress.
Work is typically carried out by a hydraulic drill machine and sometimes low-grade explosives are also used to blast through. Excavating them is always unpredictable, and the construction time really depends on the soil, water & gas conditions and sometimes on irate property owners who get concerned about the impact to their buildings above.
National Capital Region Transport Corporation (NCRTC) had awarded STEC with Delhi-RapidX's contentious contract for the project's 5.6 km Package 4 in December 2020 to build twin tunnels between New Ashok Nagar DN Ramp – Anand Vihar – Sahibabad UP Ramp, and one new station at Anand Vihar.
I reckon they'll be constructing 4-5 cross-passages between Anand Vihar – Sahibabad UP Ramp at Vaishali and 7-9 cross-passages between Anand Vihar – Ashok Nagar DN Ramp at Khichripur.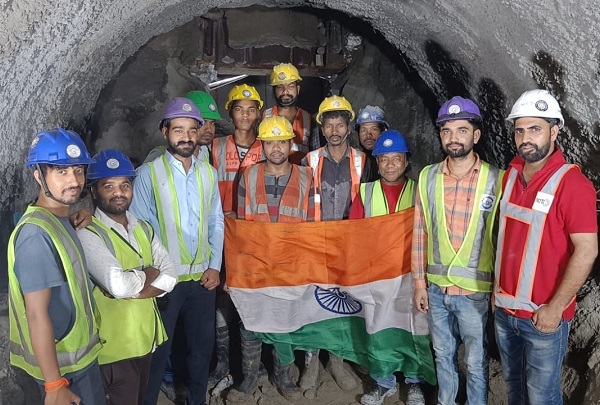 Multiple methods exist to build these passages. Here's a short informative video of one of them:
On the main-line, STEC has so far recorded 6 out of 8 planned tunnel breakthroughs. The last one was by Sudarshan 4.3 at Sahibabad UP Ramp in May 2023.
For more updates, check out the RRTS section or my Home Page! Sign up for free instant email notifications on new posts over here. Like this post? Get early-access to updates and support the site over here.
– TMRG