YFC Projects – Montecarlo JV on early Friday morning launched their first 27.90 meter long U-girder for the viaduct of Patna Metro's 16.86 km Line-1 connecting Danapur Cantonment – Khemni Chak.
YFC-MCL's roughly 8 km long package PC-04 in Patna Metro's Phase 1 project consists of 7 elevated stations on either side of Line-1. This major package level milestone was recorded using a 170MT girder on top of piers 133-134 between RPS More Station & Patliputra Station in east Patna.
Delhi Metro Rail Corporation (DMRC) had awarded YFC-MCL JV with a Rs. 553.50 crore contract in December 2021 with a 36 month deadline.
YFC-MCL's package consists of two disjointed elevated sections. The first in east Patna is a roughly 4 km section connecting Danapur with Patliputra Ramp via 4 stations at Danapur, Saguna More, RPS More and Patliputra.
The second section in central Patna – another roughly 4 km section – connecting Mithapur Ramp with Khemni Chak Station will allow users to switch over to the 14.05 km Line-2 (Patna Junction Railway Station – New ISBT). It consists of 3 stations at Mithapur, Ramkrishna Nagar and Jaganpura.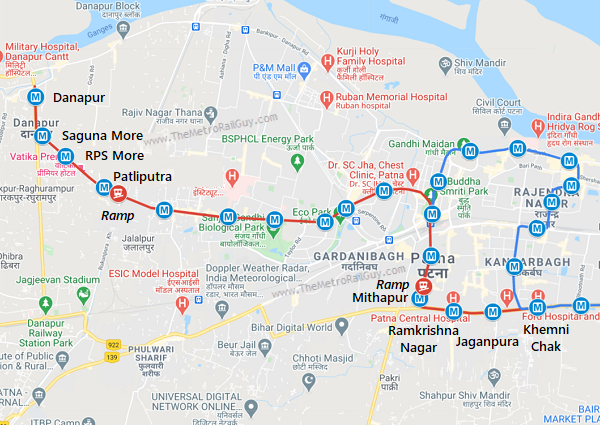 This isn't Phase 1's first U-girder though. Back in January 2023, NCC launched Line-2's first U-girder between piers P-103 and P-104 near Bhootnath Station.
Such launches will now become a regular nightly affair in the city. By back of the hand calculations, I estimate approximately 600 girders will be launched for both sections.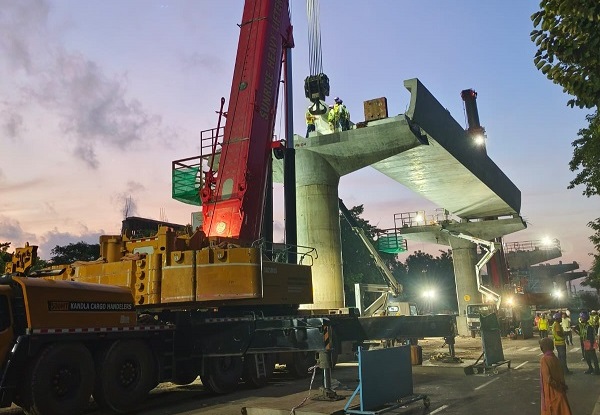 This milestone was recorded in roughly 21 months from the award of contract, which is way beyond the average time taken by contractors elsewhere.
Site conditions vary vastly across the country, but for comparison with ongoing projects in other tier-2 cities: JMC Projects launched Kanpur Metro Package KNPCC-07's first U-girder in just 7 months, while Sam India launched Agra Metro Package AGCC-01's first U-girder in 13 months from the award of contract.
Meanwhile, construction tender notice(s) are still pending for Line-1's 8 km underground section connecting Patlipura Ramp – Mithapur Ramp via 6 stations. The start of train testing and commercial operations on PC-04's Danapur – Patliputra section depends on the completion of those tunnels. Due to this tendering delay, at this time I see Phase 1 getting completed no sooner than 2028.
For more updates, check out the Patna Metro section or my Home Page! Sign up for free instant email notifications on new posts over here. Like this post? Get early-access to updates and support the site over here.
– TMRG