While metro rail and road tunneling projects continue to be my site's main focus, I always get excited when tunneling milestones are recorded for other basic, important and "invisible" infrastructure components like sewage, hydro-electric and water supply projects.
Last week, Larsen & Toubro (L&T) completed tunneling activities for a 4.6 km tunnel under Tungareshwar Wildlife Sanctuary as part of the Surya Water Supply Project in Maharashtra's Vasai region.
This project by Mumbai Metropolitan Region Development Authority (MMRDA) will allow water to be channeled to the Chene Master Balancing Reservoir to provide an additional 218 million litres daily water to the Mira Bhayander Municipal Corporation (BMMC) and 185 million litres daily water to the Vasai Virar City Municipal Corporation (VVCMC).
L&T was awarded the project's Rs. 1329.01 crore contract for construction, operation and maintenance in August 2017 with a 34 month deadline. They are being assisted by Shah Technical Consultants as the project's consultant.
L&T's tunneling crew in 2021 commissioned a small Herreknecht tunnel boring machine (TBM) for this assignment at a depth of 55 metres to ensure minimal disruption to the sanctuary. The tunnel has an internal finished diameter of 2.85 meters.
Per Free Press Journal, the construction phase posed formidable challenges, particularly with the creation of a 55-meter-deep inlet shaft, where the rock conditions were exceptionally hard. To overcome this, the drill blast method was employed.
The geological conditions in this region displayed a remarkable variation, transitioning from the formidable basalt rock to the more manageable murram.
MMRDA's Surya Water Supply Project page lists out all pieces of this project, which includes Kawadas pick-up weir (from where raw water will be lifted) to the new water treatment plant coming up in Suryanagar, and more.
The Central Government's Environment Clearance website includes more finer details, including grainy maps of the project.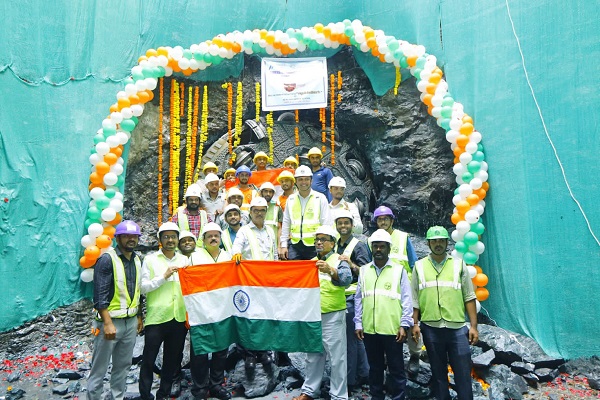 The entire project includes the construction of 4 tunnels. The other ones are:
Mendhwan Khind Tunnel (crossing below NH-48) – 1.7 km, completed
Vasai Creek Tunnel – 0.9 km, status unknown to me
Kaman Creek Tunnel – 0.25 km, likely completed
Here's a cool video of the project in Marathi with graphics straight out of the 90s. Tungareshwar tunnel's depiction starts at the 2:50 mark.
For more updates, check out my Home Page! Sign up for free instant email notifications on new posts over here. Like this post? Get early-access to updates and support the site over here.
– TMRG