Five firms have submitted bids to provide architectural and engineering consultancy services for Phase 2 of Ayodhya Airport's construction in Faizabad, Uttar Pradesh after Airports Authority of India (AAI) opened technical bids on Tuesday.
Phase 2 of what's officially known as Maryada Purushottam Shri Ram International Airport involves construction of a 30,000 sq. m new terminal building capable of handling 3,200 peak hour passengers (PHP), extension of the runway's length from 2200m to 3125m, and an expansion of the apron to handle 8 narrow-body aircrafts (eg. A320, B737).
AAI had invited tenders for this consultancy contract in October 2023 with an unknown estimate, and expects the consultant to stay onboard until the end of construction which is estimated at 1140 days (3.1 years).
Bidders
Aadharshila Designs Pvt. Ltd.
Creative Group LLP
KITCO Ltd.
RITES Ltd.
Sikka Associates
AAI's Brief Scope: Development of Ayodhya Airport (Phase-II). SH- Architectural and Engineering Consultancy Services for Construction of New Terminal Building, Ancillary Buildings, Car Parking, City side Development and other associated works at Ayodhya Airport.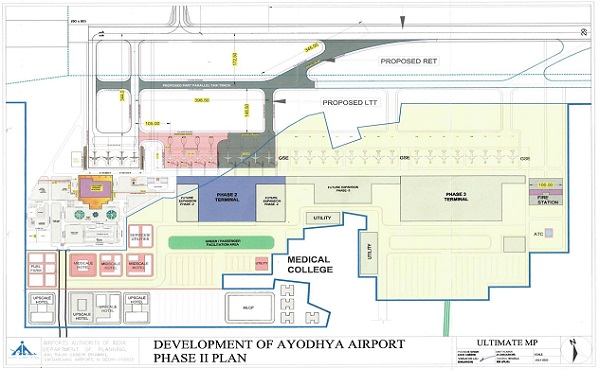 The bids have now been sent for technical evaluation which can take a couple months to complete. When that is done, the financial bids of the technically qualified bidders will be opened to reveal who's the lowest bidder and most likely consultant.
Ayodhya Airport's Phase 1 is scheduled to become operational in January 2024. Its masterplan includes a Phase 3 as well with a new terminal and expanded runway as seen in the designs above. The project's information page can be viewed here or via the menu bar (Misc. > Airport Upgrades).
For more updates, check out the Airports section or my Home Page! Sign up for free instant email notifications on new posts over here. Like this post? See how you can get early-access to updates and support the site over here.
– TMRG